Our content is medically reviewed periodically by professionals for accuracy and relevance. We pride ourselves on our high-quality content and strive towards offering expertise while being authoritative. Our reviewers include doctors, nurses, mental health professionals, and even medical students.
-----------------------------------
Jackfruit (or jakfruit) is a Southeast Asian fruit that originates from the jackfruit tree, a relative of the fig, mulberry, and breadfruit trees.
Bangladesh's national fruit, the jackfruit, resembles an elongated honeydew melon or a big mango. The word "jackfruit" derives from the Portugal word jaca, which was taken from explorers' translation of the Malaysian title for the fruit, chakka, in the 16th century. Even though it is still cultivated primarily in Southeast Asia, jackfruit recipes are now relished worldwide, both raw and cooked.
Sometimes people mistake the jackfruit for the durian fruit, which has a similar appearance but is vastly different. Durian has a pungent stench that not everyone likes; jackfruit has a sweet, fruity aroma. Durian fruits are also smaller than jackfruit, but the outside of a durian fruit may contain prickly "thorns," whereas the surface of jackfruit is smooth. There are various types of jackfruit recipes present on the internet.
Read more about the benefits of jackfruit.
What Is The Taste Of Jackfruit?
It's good to know what to expect before you take a mouthful. The texture of jackfruit is comparable to that of a banana, mango, or papaya in terms of density and fibrousness. However, the flavor is unique. Some describe jackfruit as sweet, while others claim it is akin to pulled pork, particularly when cooked.
The jackfruit seeds are eaten, and their creamy, gummy flavor has been compared to that of a Brazilian nut. The interior meat of jackfruit is a yellow, mango-like color, and it can be purchased pre-sliced or preserved in a sweet syrup.
Benefits Of Jackfruit
Jackfruit is not only a delicious exotic treat for your taste senses, but it also has a lot of nutritional value. Jackfruit is high in magnesium, vitamin B6, and antioxidants, in addition to the usual combination of vitamins and minerals found in other fruits.
It's a wonderful substitute for certain meat-based recipes since it has a meaty texture when cooked. However, jackfruit doesn't have a high protein level, so if you're organizing a main meal around a jackfruit meal, you may still need a protein source.
The minerals and vitamins in jackfruit can help boost immunity, including antioxidants that can target cancer cells, lower the risk of heart attack, treat osteoporosis, and improve digestion when consumed regularly as part of a diverse diet. It may also be used in sweet or savory recipes as a low-carb, vegan meat replacement. It can make some amazing vegan jackfruit recipes.
Vegan Jackfruit Recipes
Even if you're a novice cook, these delectable dishes are simple to prepare. If you want those "meaty" flavors and textures, jackfruit is a perfect meat substitute that pairs nicely with BBQ. You can easily avail of it at the Asian grocery store.
So, what exactly are you waiting for? Make these delicious vegan recipes with jackfruit for your family or yourself tonight using a can of jackfruit!
Here are some more vegan recipes that you can cook jackfruit with for Christmas dinner. So, get your jack fruit from grocery stores and make a delicious dinner tonight. Here are some best jackfruit recipes. Try these jackfruit recipes to make your dinner great.
1. Pulled Jackfruit Tacos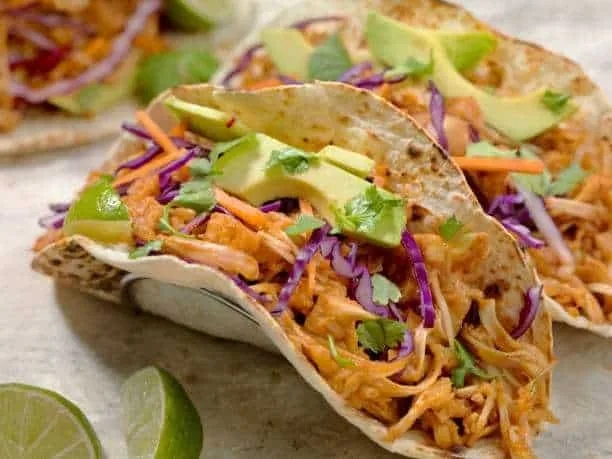 Ingredients
10 ounces of canned green jackfruit
1 teaspoon red chile powder, divided
1 teaspoon minced garlic
Taco shells; vegan tacos
Vegan Mayo
1½ teaspoons ground turmeric, divided
2 tablespoons vegetable oil, divided
Kosher salt, to taste
½ teaspoon minced serrano chile
1 tablespoon minced onion
1 teaspoon minced ginger
½ teaspoon mustard seeds
¾ cup water
1 teaspoon ground cumin
6 curry leaves, roughly torn
1 tablespoon finely chopped toasted almonds
½ teaspoon ground coriander
½ teaspoon garam masala
2 tablespoons minced tomatoes
1 teaspoon tamarind paste
1 teaspoon lime juice
1 teaspoon minced cilantro
Freshly grated Parmesan for garnish
16 small flour tortillas
16 potato tacos, julienned and fried
Julienned red Thai chile for garnish
You won't be sorry you took the time to prepare this smokey, spicy dinner. It is an amazing recipe that you can serve to anyone as a substitute for non-veg recipes.
A powerful blend of spices transforms young jackfruit into the ultimate taco stuffer, and it's best cooked a day ahead of time. Find young green jackfruit to make this wonderful recipe. This is among the best jackfruit recipes.
2. BBQ Jackfruit Pulled Pork Sandwiches
Ingredients
1/4 tsp (0.25 tsp) salt depending on your taste.
1/2 (0.5 ) thinly sliced medium red onion.
1 tsp minced garlic.
2 20 oz cans (2 cans) young green unripe fresh jackfruit (packed in brine or water). Each can is 20 oz. You need 2 cans. So a total of 40 oz, it's white or beige-ish white.
2 to 3 tbsp (2 to 3 tbsp) barbecue seasoning; if the seasoning is simply spices, add 1 tablespoon sugar. Use 3 tablespoons of the seasoning already contain sugar.
1 tsp minced ginger.
3/4 cup (214.5 g) bbq sauce, plus extra bbq sauce for dressing.
Instructions
Drain the jackfruit and set it aside. Place in a thick kitchen roll, fold it, and squeeze as much liquid out as you can. Some of the jackfruits will be shredded as a result of this. Slice the remaining ingredients with a knife or separate them with your hands until they're shredded. If there are any hard seeds, remove them. (Hard seeds are rarely seen in canned versions.) All parts of the delicate seedbox and stem are edible).
Combine the shredded jackfruit, onion, garlic, and ginger in a large mixing basin. Mix in the barbecue spice, sugar mixture, and salt well.
Mix in 1/2 to 2/3 cup barbecue sauce. If the barbecue sauce is too thick, add 2 tbsp vegetable broth and stir well.
In a large baking dish, spread the ingredients out (parchment lined).
Preheat the oven at 400 degrees F and then bake it for another 30 minutes. By squeezing some of the bigger pieces with a spatula, shred them. At this stage, taste and adjust the salt, sweetness, and heat. Mix in some salt, sugar/maple syrup, and cayenne pepper for heat if desired, and stir the jackfruit about.
Spread evenly again and cook for another 15 to 25 minutes (depends on preferred texture.)
Prepare the tacos and buns. In a large mixing bowl, combine all of the ingredients for the slaw. Adjust the taste to your liking. Chill for 15 minutes before using.
This is among the best jackfruit recipes. 2 to 4 tbsp bbq sauce in the baked jackfruit, ample layers of jackfruit, and additional bbq sauce on the sandwiches. You can also use this as a filling for tacos or wraps.
3. Jackfruit Carnitas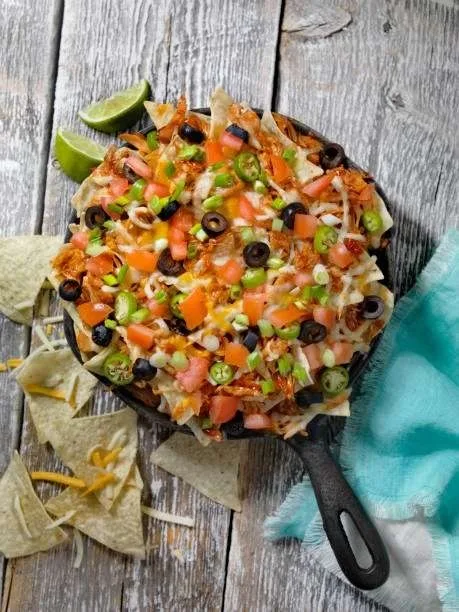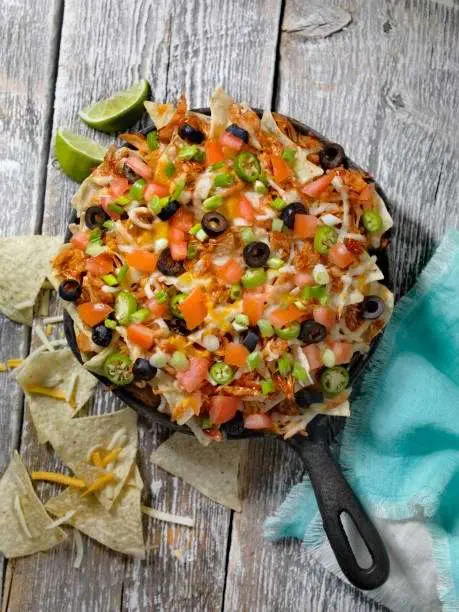 Ingredients
For the spice mix
2 tsp ground cumin
1/4 tsp pepper
1 pinch cayenne pepper
1 pinch cinnamon
2 tsp chili powder
1/2 tsp oregano
1/4 tsp garlic powder
1/4 tsp paprika
1 tsp soy sauce optional
1/2 tsp salt
1 tsp lime juice
For the carnitas:
1 Tbsp cooking oil such as Canola oil or something neutral oil
Homemade spice blend see above
1 Tbsp maple syrup
2 clove garlic crushed
1 small onion diced
1 20 oz canned fruit in brine drained or young green jackfruit
Instructions:
Preheat a skillet over medium heat. Combine the oil, shallot, garlic, and spice mixture in a large mixing bowl.
Stir until the onions are transparent and the spices are evenly distributed.
Stir in the jackfruit and maple syrup, breaking up the jackfruit as needed. When the liquid has dissolved, and the jackfruit has darkened and begun to resemble shredded meat, it is done. This is one of the other delicious jackfruit recipes.
4. BBQ Jackfruit Sweet Potato Mac and Cheese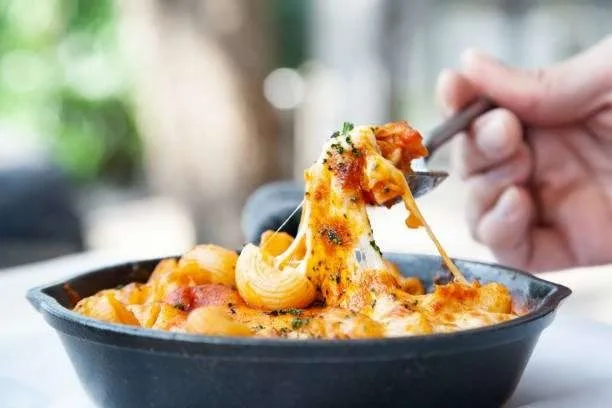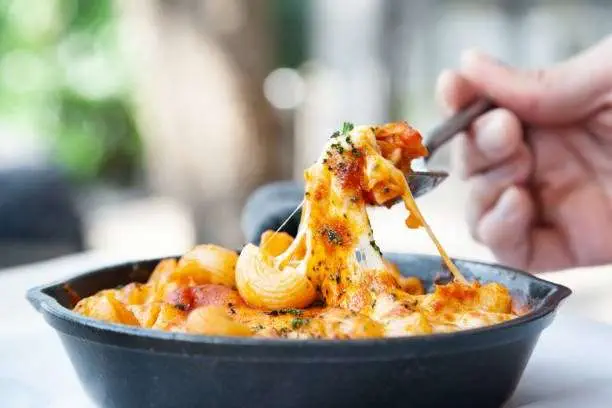 Ingredients
1/2 cup barbecue sauce choice
8 ozs whole wheat pasta
1 canned jackfruit young, in water or brine, rinsed and drained or fresh raw jackfruit
1 sweet potato medium-sized, cooked and peeled
1 clove garlic minced
1/4 cup raw cashews soaked overnight
1 cup non-dairy milk plain, unsweetened
1/2 tbsp soy sauce /tamari/liquid aminos
1 tbsp lemon juice or apple cider vinegar, and white vinegar
1/2 tsp smoked paprika
1 tbsp nutritional yeast
1/4 tsp black pepper
3 drops liquid smoke
1/4 tsp cayenne pepper
1/4 tsp salt
1/2 tbsp prepared dijon mustard
2 tbsp non-dairy yogurt plain, unsweetened
1 tbsp tapioca starch
chopped cilantro fresh or green onions, for toppings
Instructions:
Begin by soaking the cashews in boiling water for the sauce.
1/2 a pot of homemade Chipotle BBQ sauce In a small saucepan, combine all ingredients and bring to a boil. Reduce the heat of the gas to low and then let the ingredients simmer for approx 10 minutes. Now and again, I'll stir it up.
Shred and prepare the jackfruit while the BBQ sauce simmers.
Cook the jackfruit for 5 minutes after the BBQ sauce is finished. Allow for a 20-minute simmer.
Boil water for your pasta and mix the macaroni and cheese sauce while the jackfruit simmers.
5 minutes on the burner, heat the combined sauce. Your pasta is cooking in the meantime.
The jackfruit is done, the sauce is heated, and the noodles are ready. Toss it all together and serve! This is among the best jackfruit recipes.
5. BBQ Jackfruit Sandwiches with Avocado Slaw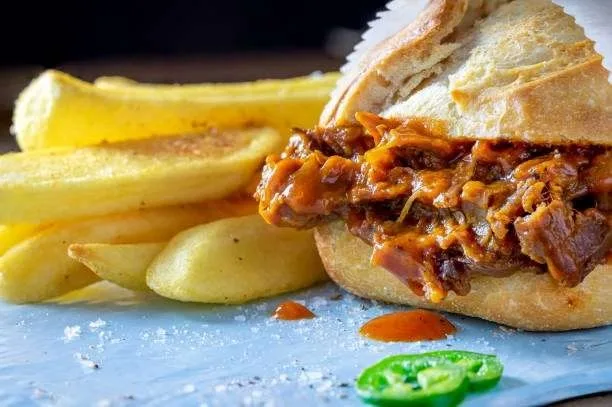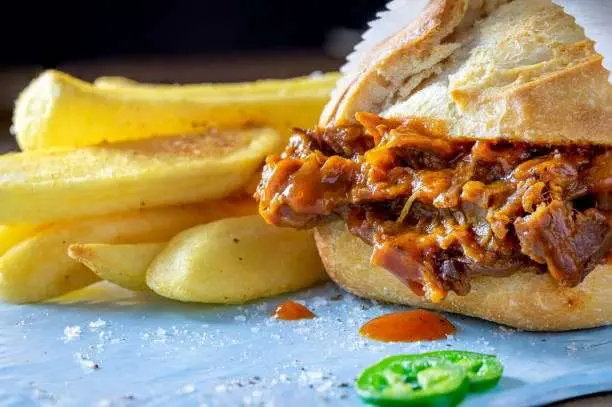 Ingredients
4 cloves minced garlic
4 large vegan sandwich buns
1 tablespoon grapeseed or other cooking oil
3 20oz cans of jackfruit in water
1/2 cup tomato-based barbecue sauce (plus a little more for the sandwiches)
1 cup vegetable broth
1 large yellow onion, chopped fine
1½ teaspoons vegan Worcestershire sauce
3 tablespoons molasses
1 teaspoon dry mustard
3 tablespoons apple cider vinegar
2 teaspoons thyme
1½ teaspoons liquid smoke
1 teaspoon chili powder
1 teaspoon smoked paprika
Avocado Slaw
3 cups shredded green cabbage
Sea salt and black pepper to taste
2 tablespoons white vinegar
1 large avocado, mashed
1 teaspoon celery seed
2 teaspoons organic sugar
Instructions:
Preheat oven to 400 ° degrees Fahrenheit. Uncover and remove the jackfruit from the container. Remove the seeds and tough core from the jackfruit chunks. Using a sharp knife, cut the jackfruit into little triangular shapes. This will aid in obtaining the stringy, stretched texture of the jackfruit.
Take a large skillet and then heat the oil in it over medium-high heat. Cook for 1-2 minutes, or until the onion is slightly translucent. Cook for yet another minute or two after adding the garlic. Stir in the jackfruit, then add the Worcestershire sauce, vinegar, liquid smokiness, molasses, and dry spices. Mix thoroughly.
Reduce the heat to medium and cover the pan after pouring the vegetable broth into it. Simmer the jackfruit until it has absorbed all of the liquid, about 10 minutes, swirling often and smashing the jackfruit pieces till the combination is stretchy and looks like pulled pork.
Distribute the jackfruit in an equal layer on a lined or oiled baking pan. After 20 minutes in the oven, remove the pan and pour the barbecue sauce over the jackfruit. Stir well until equally blended, and shred the bbq pulled jackfruit with a fork if preferred. The chewier and tastier the bits are, the smaller they are.
Return the pan to the oven for another 20 minutes, then begin preparing the avocado slaw. With a generous scoop of bbq pulled jackfruit, avocado slaw, as well as a sprinkle of bbq sauce, make the sandwiches.
To make the slaw, put all of the ingredients in a large mixing basin and stir well. Refrigerate the avocado slaw until you're ready to make the BBQ Pulled Jackfruit. This is among the best jackfruit recipes.
6. Sri Lankan Jackfruit Curry Cooked In Coconut Milk (Mild Flavor)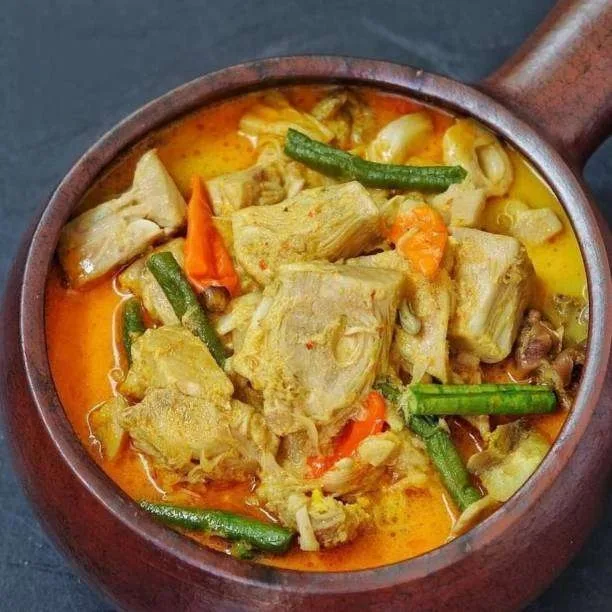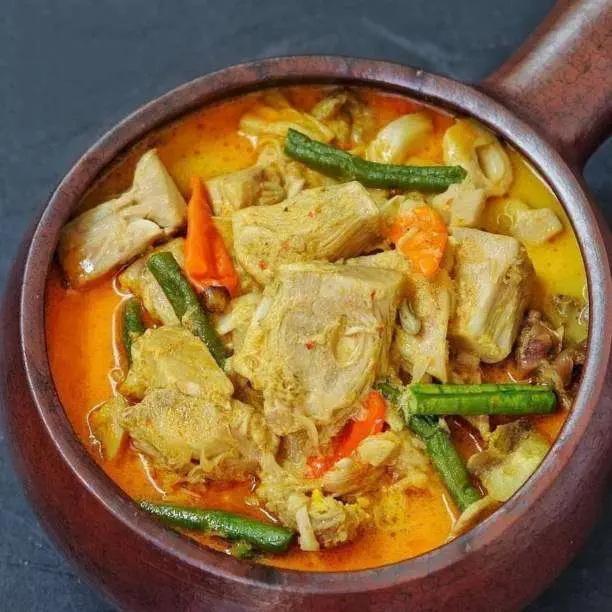 Ingredients for tempering
2 slices of garlic cloves finely sliced
1 teaspoon of red chili flecks
1teaspoon of mustard seeds
3 tablespoons of oil
1 medium Onion finely sliced
Ingredients to cook the curry
20-25 unripe Jackfruit pods, cleaned and cut into required size
1 large onion sliced
1 and 1/2 teaspoon curry powder
1-2 sprigs of curry leaves
3 garlic cloves finely sliced
1-inch cinnamon stick
A piece of Pandan leaf
1 and 1/2 cup of thin milk
1/2-1 teaspoon of Black ground pepper
1/2 teaspoon turmeric powder
1 cup of thick Coconut milk
1-2 green chilli halves
Salt to taste
1/2 teaspoon mustard seed
Instructions:
Insert the Instant Pot and select the Sauté option. Add the oil once it has reached a temperature of HOT. Add the cumin seeds after a minute and cook for 45 seconds, turning regularly until they start to crackle.
Toss in the onions. Sprinkle with salt and cook for 5-6 minutes, or until tender.
Cook for 90 seconds after adding the minced garlic and ginger and the garam masala powder. To avoid burning, keep stirring occasionally.
In a large mixing bowl, combine the coconut milk, shredded jackfruit, and potato cubes. To mix, stir everything together thoroughly.
To deglaze the saucepan, add 1/2 cup of water. Scrape any browned pieces from the bottom of the saucepan with a wooden spoon. To switch off the Sauté feature, press Stop.
Allow a 10-minute natural pressure release once the cooking timer has gone off. Then, to discharge any leftover steam, switch the valve from Sealing to Venting.
Combine the cilantro and lemon juice in a mixing bowl. Remove the lid and add turmeric powder. Mix thoroughly.
Have fun! This is among the best jackfruit recipes. Warm rice or naan is a good accompaniment.
7. Pulled Jackfruit Burrito Bowls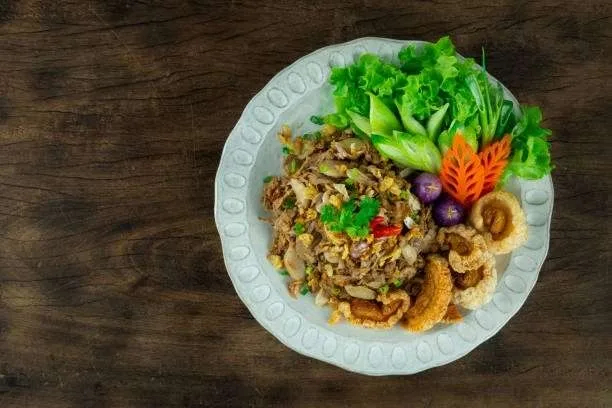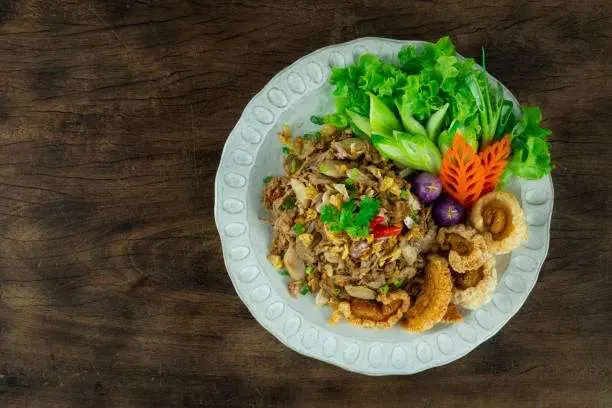 Oil (any neutral taste oil)
Molasses
Avacado
Cabbage
Ripe Jackfruit
Lime
Beans
Rice
Dijon mustard
Tomato Paste
Tamari
Spices
Water
Ginger
Onion
Garlic
Red wine vinegar
Liquid Smoke (for rich bbq flavor)
Instructions:
In a skillet, combine the oil, onion, molasses, garlic, balsamic vinegar, and red wine vinegar. Stir-fries for 20-30 minutes, stirring often.
Simmer for five minutes after adding mustard, spices, tamari, liquid smoke, tomato paste, and water to the onion mixture. After that, put the sauce in a blender and mix it until smooth.
Preheat the oven to 400 degrees F. Meanwhile, combine two drained cans of jackfruit on a roasting tray and mash it up with a potato masher. Mix the barbecue sauce into the jackfruit until it is well distributed.
Wrap the pan with aluminum foil and bake for 30 min, covered. Cook for yet another 5 minutes after removing the foil. Mash the barbecue jackfruit with a potato masher once it's done cooking.
Next, combine the thin carrots, diced red cabbage, lime juice, and oil in a mixing dish. To mix, stir everything together.
Lastly, put the jackfruit mixture and bbq burrito bowls together. Combine 14 ounces jackfruit, 14 ounces refried beans, 14 cups rice, and 14 ounces cabbage mixture, then season to taste with salt and pepper. Finally, top with mashed avocado and serve the prepared jackfruit burrito bowls, which taste like trader joe's burrito bowls. This is among the best jackfruit recipes. It is yet another the best vegan meal with just fruit.
8. Huevos Rancheros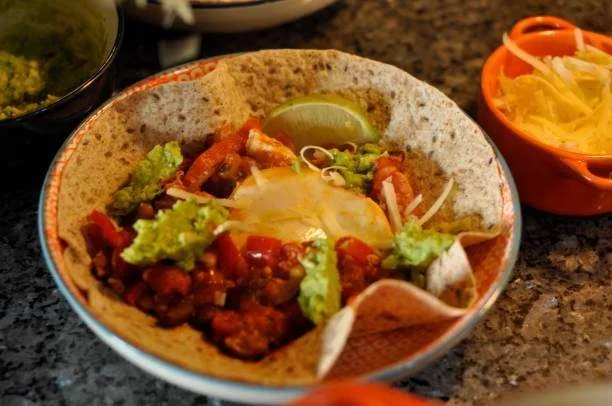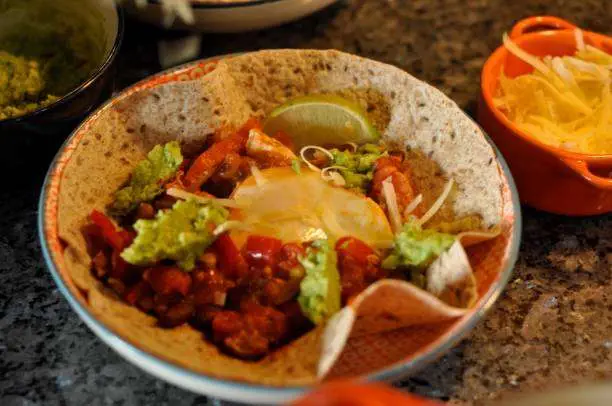 Tofu Scramble:
Extra-firm tofu
1/4 tsp turmeric powder
1/8 tsp ground black pepper
1/4 tsp salt
Slice the tofu and crumble it with a fork into bite-sized pieces.
Heat a frying pan with some water or oil, then add the tofu and the remaining ingredients. Cook for 5 to 10 minutes over medium-high heat, stirring often. Stir once in a while.
Slow Cooker Jackfruit Tacos:
3 cans jackfruit in water
2 bay leaves
3 cloves garlic
1 lime, juiced
1 teaspoon dried oregano
½ cup vegetable stock
½ white onion, diced
Salt and pepper
1 teaspoon ground cumin
In a slow cooker, mix all of the components. To mix, stir everything together.
Cook on high heat for 3 hours or on low heat for 6 hours, covered.
Preheat oven to 400°F (200°C) when ready to serve.
Retrieve the bay leaves from the slow cooker and cover them again. Shred the jackfruit with two forks.
Bake the jackfruit for 15 minutes, or until the edges, are slightly crisped, on the prepared baking sheet. This is among the best jackfruit recipes.
9. BBQ Smokey beans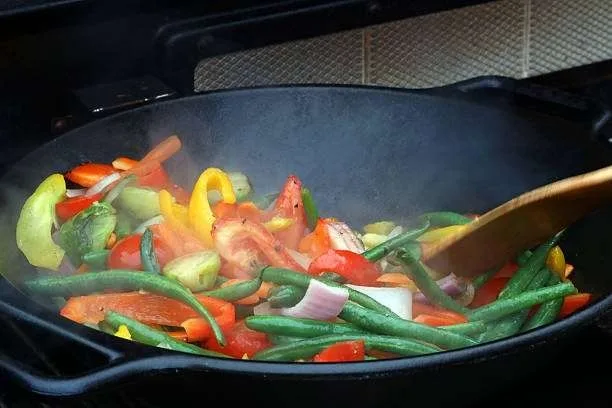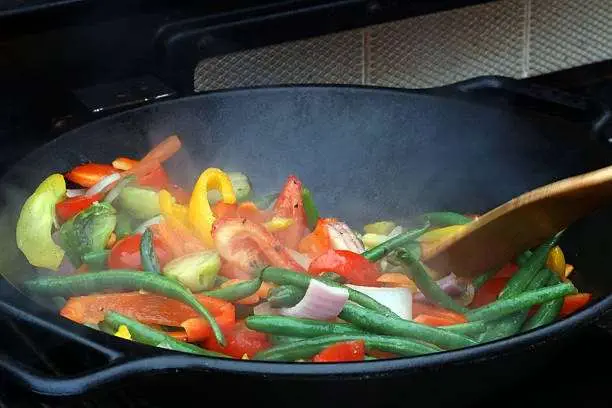 1 onion, diced
1 x 700 ml jar of passata
1 heaped teaspoon sweet smoked paprika
1 level teaspoon ground cumin
2 cloves of garlic
100 ml quality vegan BBQ sauce
1 tablespoon Chipotle paste
800 grams of mixed beans
A few sprigs of fresh rosemary
In a big heavy-bottomed pan (with a cover), sauté the onions and garlic for 5-10 minutes.
Combine all of the spices, rosemary, and chipotle paste in a large mixing bowl—Cook for an additional 5 minutes.
Combine the passata, beans, and BBQ sauce in a mixing bowl (add a splash of water to the empty jar and swirl it around before pouring it in). Season the dish with a pinch of salt and pepper, and then mix everything well.
Bring to a boil, then reduce to low heat and cover to keep warm. Cook for 2- 2 1/2 hours, stirring periodically. This is among the best jackfruit recipes.
10. Sloppy Joe Jackfruit Slider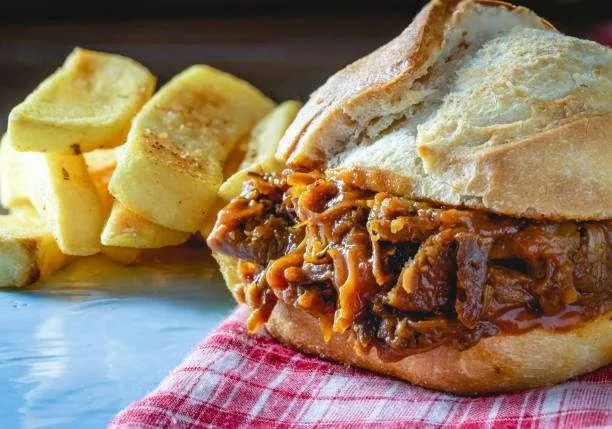 This is ideal for individuals who want to give up meat but can't say no to burgers! Jackfruit is a great way to satisfy your non-vegetarian burger cravings. This jackfruit dish uses shredded fruit that has been seasoned with turmeric and red chili powder, seasoned with garlic, and served on soft toasted buns, making it a great evening snack. This is among the best jackfruit recipes.
Ingredients:
200 gms jackfruit
1 tbsp butter
30 gms cashew paste
80 gms tomato puree
1 tsp lemon juice
1 tsp deggi mirch
2 pieces bread slice
10 gms turmeric powder
2 Garlic cloves
Here are some famous jackfruit recipes you can try.
These delicious jackfruit recipes from fresh jackfruit act as a great supplement for vegan food. Try to make them at home and enjoy your day. Jackfruit recipes give your diet a different and healthy taste. It will make your impression great in front of everyone.
Our content is medically reviewed periodically by professionals for accuracy and relevance. We pride ourselves on our high-quality content and strive towards offering expertise while being authoritative. Our reviewers include doctors, nurses, mental health professionals, and even medical students. -----------------------------------
Any information found on the site does not constitute legal or medical advice. Should you face health issues, please visit your doctor to get yourself diagnosed. Icy Health offers expert opinions and advice for informational purposes only. This is not a substitute for professional medical advice.