Overnight oats protein is one of the most underrated dishes of all times. It has oats – one of the most healthiest grains found on this planet.
Although overnight oats protein is very famous amongst fitness freaks, it is time for this miracle dish to take the limelight amongst the others as well. Be it healthy, tasty or appetizing – overnight oats protein has it all.
What is Overnight Oats Protein?
Overnight oats proteins are a healthy form of oatmeal with proteins. You make this dish without actually cooking it. You just have to combine simple ingredients and allow it to sit overnight, after which you can savor it as a breakfast meal.
You can eat the oatmeal cold in the form of a desert pudding or you could also heat it. The choice is yours.
Why Overnight Oats Protein?
No doubt, oats are said to be a miracle superfood when it comes to weight loss. They form part of a very healthy breakfast . But is that all it offers?
Here are a few more benefits of the main ingredient of the overnight oats protein – the oats, that will make it crystal clear why you should add overnight oats protein to your diet.
1) Oats Are Actually Very Nutritious
They are loaded with all the essential and important vitamins and minerals. Oats contain 51 grams of carbs, 5 grams of fat, 13 grams of protein and 8 grams of fiber. Oats have a total of 303 calories.
They are dense in nutrients and have the highest amount of protein content amongst all the other grains. Also, they are naturally gluten free as well.
2) Can Help Control Cholesterol
Eating oats can lower cholesterol levels in the body. It can also protect the LDL cholesterol from any damage.
This health benefit of oats comes from its high soluble fiber. A more specific fiber called beta glucan, found in oats, dissolves in water and forms a jelly like coating around the inside of the gut. Thus, this layer helps in reducing excessive cholesterol absorption and decreases the risk of heart diseases while keeping our gut healthy.
3) Regulate Blood Sugar
It has been stated that oats may help lower blood sugar levels, especially in type 2 diabetics. They have also been foundd to be effective in lowering sugar levels of overweight people and improve insulin sensitivity in the body.
4) Aids in Weight Loss
Boiling oats in water or milk makes oatmeal. Overnight oats proteins are also a form of oatmeal which does not require any cooking.
Consuming oatmeal helps keep the stomach fuller for an increased amount of time as compared to other foods. This helps in curbing hunger and keeps you satiated for longer, which in turn aids in weight loss – as you eat less when you feel less hungry.
Oatmeal plays an important role in appetite control and is packed with nutritional calories as well.
5) Oats Are Amazing for Skin
Many skin care products include oats in them as an ingredient as they provide glow and also help in cleansing the skin. Applying oats externally on top of the skin proves to have many health benefits and helps keep the skin young.
Consumption of oats also aids in skin health by vitalizing it.
6) Can Relieve Constipation
One thing we have learned till now that oats are loaded with fiber. Fiber is one of the best cures for constipation. Eating fiber helps improve the bowel function and improves the overall digestive system as well.
In short, eating a bowl of oatmeal for breakfast will help you overcome your constipation, for sure.
How to Make Tasty Overnight Oats Protein?
Making overnight oats protein is easy and the opposite of time consuming. Below are five delicious recipes for making the best tasting overnight oats protein.
1) Blueberry Overnight Oats Protein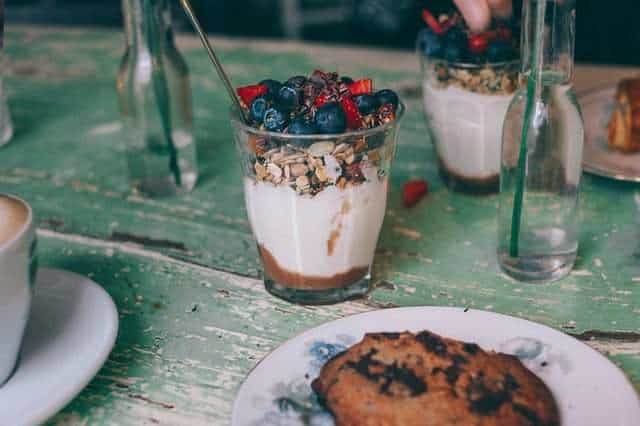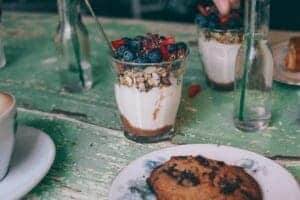 A simple and classic breakfast recipe for the no nonsense kind of people.
Ingredients you will need:
½ cup Rolled oats ( can use steel cut oats or old fashioned oats as well)
Salt
½ cup blueberries
1 tbsp. Chia seeds
½ cup almond milk
¼ Greek yogurt
Maple syrup (optional)
Procedure
Combine ½ cup of rolled oats, a pinch of salt, ½ cup of blueberries and 1 tbsp chia seeds in a glass bowl.
Add ¼ cup of Greek yogurt (non flavored is preferred) and ½ cup almond milk to the dry ingredients.
You could add maple syrup if you like just for the flavor. 1-2 tbsp should do the trick.
Mix the ingredients in the bowl until they are thoroughly combined together.
Once the ingredients are mixed, transfer the mixture into a glass jar.
Place the mixture in the refrigerator overnight.
Enjoy a healthy overnight oats protein breakfast the next day. You could top your overnight oats proteins with more blueberries and slivered almonds.
2) Chocolate and Banana Overnight Oats Protein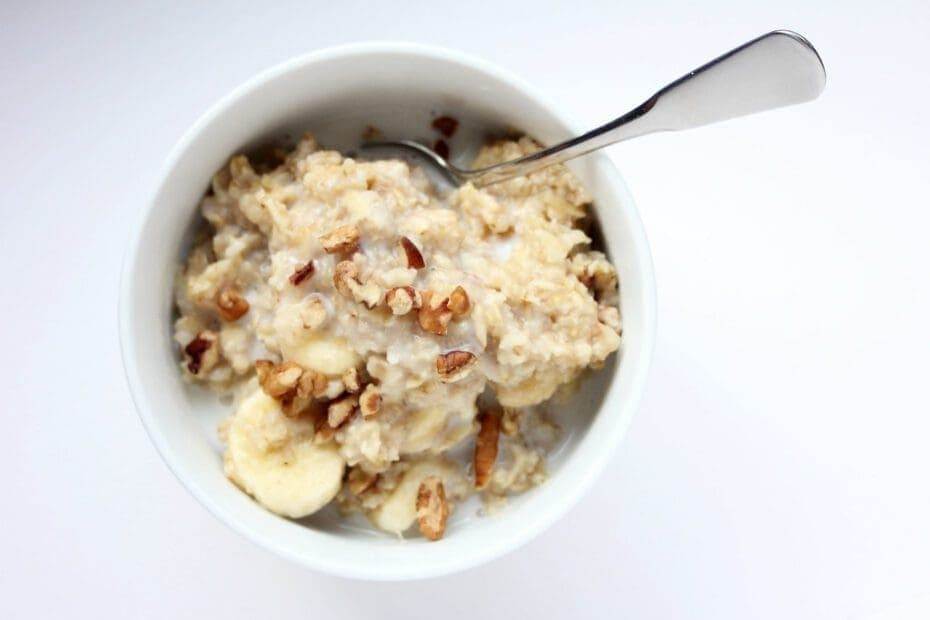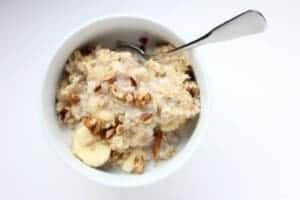 Chocolate does make everything taste better. Let's try adding it to our overnight oat's protein recipe.
Ingredients you will need :
1 Banana
½ cup Rolled oats
½ cup Almond Milk
1 tbsp. Cocoa powder
1 tbsp. Vanilla or chocolate protein powder
1 tbsp. Vanilla extract
Maple syrup
Procedure
Use half a banana and slice it up into small individual pieces.
In a blender vessel, add banana, almond milk, unsweetened cocoa powder, maple syrup, vanilla extract and protein powder.
Blend all the ingredients together to attain a smooth and runny consistency.
Once the desired texture is gained, transfer the mixture in a glass jar.
Add a cup of rolled oats to this mixture and mix well with a spoon.
Let the jar sit for almost 8 hours overnight.
Stir once more before consuming.
Garnish with coca powder and enjoy this delicious breakfast of overnight oats with protein powder.
3) Apple Pie Overnight Oats Protein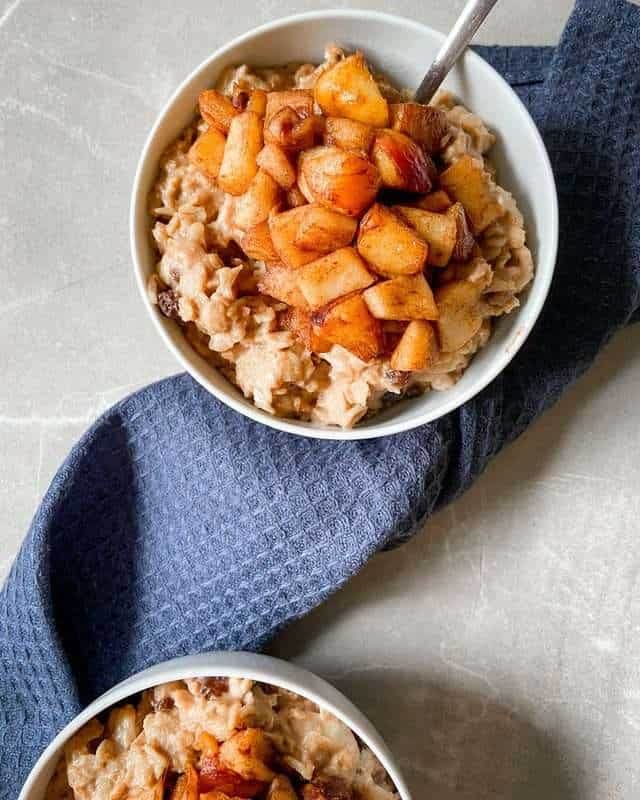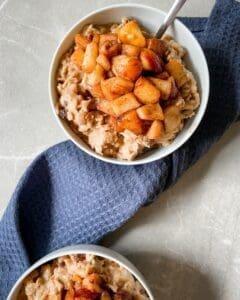 Pie lovers, here is something for you guys.
Ingredients you will need:
½ cup Rolled oats
Chopped Apple slices
1 tsp Cinnamon spice
1 tsp Apple spice
1 tsp Vanilla extract
½ cup Milk – almond, soy or cashew milk will also do
1 cup Non-dairy yogurt
1 tbsp Maple syrup or you could use honey as well
Procedure
Add the rolled oats, cinnamon, vanilla extract, yogurt and maple syrup in a mason jar and mix together.
In a different bowl, add small pieces of chopped apples with maple syrup, cinnamon and apple spice.
Microwave it for 30 to 60 s so the apple pieces look a bit baked and become soft.
Make sure the maple syrup and both the spices coat each and every apple piece nicely.
Now add these apple pieces to the mason jar.
Mix well by stirring or shaking the mason jar.
Leave in fridge overnight.
You can enjoy this yummy breakfast of overnight oats proteins with your favorite toppings.
4) Strawberry cheesecake Overnight Oats Protein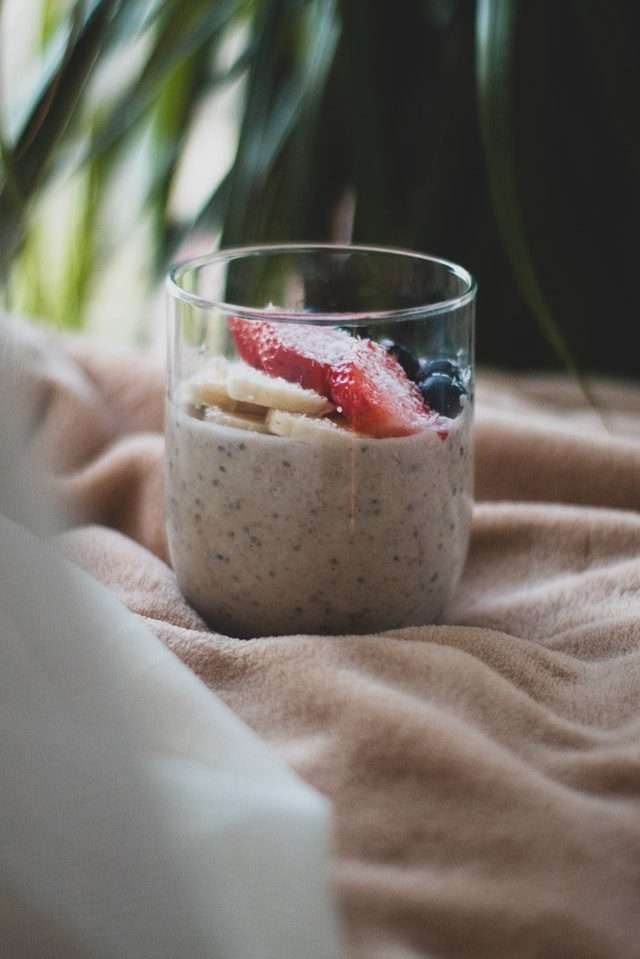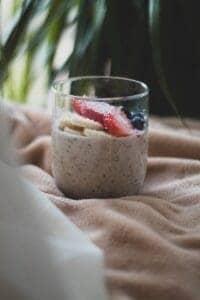 Who doesn't like dessert for breakfast? But, what if apart from being just a dessert, it was actually very good for your health as well?
Ingredients you will need:
1/3 cup Greek yogurt (plain preferred)
½ cup rolled oats
2/3 cup milk (almond, soy or cashew will do as well)
1 tbsp ground flax meal
½ tbsp vanilla extract
Salt
1/4 cup fresh chopped strawberries
2 tbsp honey or maple syrup
3 tbsp. cream cheese (softened)
Juice of half a lemon
Procedure
Mix the Greek yogurt, rolled oats, milk, ground flax meal, vanilla extract, pinch of salt, diced strawberries, maple syrup and a dash of lemon juice together.
Mix well and add softened cream cheese to the mixture.
Whisk this mixture to form a smooth semi thick consistency.
Transfer to a mason jar and shut the lid tightly.
Let the jar sit in the refrigerator overnight.
Enjoy your yummy strawberry cheesecake overnight oatmeal proteins hot or cold. Garnish with chocolate syrup or strawberry syrup.
5) Mocha Overnight Oats Protein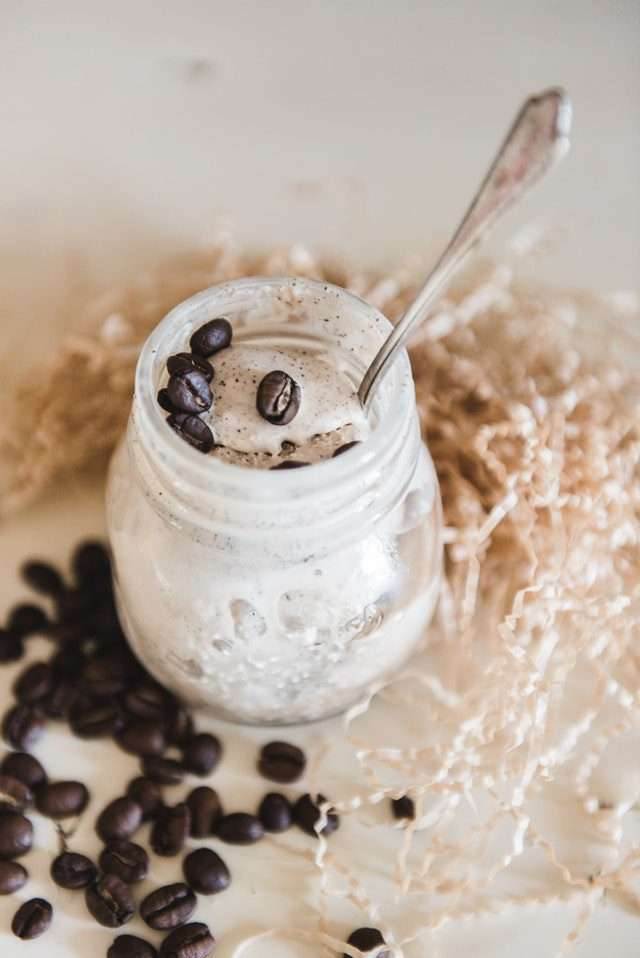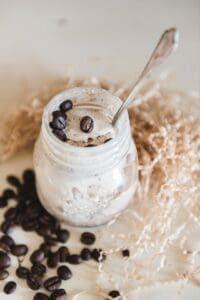 This one is exclusively for all the coffee lovers out there! Overnight oats protein is one thing, but make it mocha flavored and we have definitely got a winner!
Ingredients you will need:
1/3 cup Greek yogurt (plain)
½ cup rolled oats
2 tbsp cocoa powder (unsweetened)
1 tbsp instant coffee powder
1 tbsp chia seeds
Salt
Maple syrup
1 tbsp. vanilla extract
2/3 cup of milk (Almond preferred)
Procedure
Start by adding a pinch of salt, cocoa powder, chia seeds and coffee powder to the rolled oats and combine.
Add milk, yogurt, maple syrup and vanilla extract to the dry mixture and mix well.
You can use a hand beater or a blender to get the mixture to blend well.
Transfer the mixture into an air tight jar and let it sit in the refrigerator overnight.
Enjoy your delicious overnight oats protein with a dash of coffee for that extra morning energy!
Overnight Oats Protein
These were some of the best overnight oats protein recipes that you could make just every day and not get bored of.
Go ahead and try making them as they are hassle free , taste great on their part and are very easy to make. You can also make these overnight oats protein in a bulk and store it in the fridge to avoid making them again and again in batches.
The recipes mentioned are all sugar free and healthy. As oats are gluten free, overnight oats protein are also gluten free. The recipes can be made vegan as well by using dairy free milk for your oatmeal.
Garnish your overnight oats protein with variety toppings like peanut butter, Choco chips and what not and make breakfast your favorite meal of the day!
Lastly, feel free to experiment and mention your new made-up overnight oat recipes below in the comments section.
Check out more articles like this here.
——————–
While at times contributed by guest authors, our content is medically reviewed periodically by professionals for accuracy and relevance. We pride ourselves on our high-quality content and strive towards offering expertise while being authoritative. Our reviewers include doctors, nurses, mental health professionals, and even medical students. 
Do note that any information found on the site does not constitute legal or medical advice. Should you face health issues, please visit your doctor to get yourself diagnosed. Icy Health offers expert opinions and advice for informational purposes only. This is not a substitute for professional medical advice.