While at times contributed by guest authors, our content is medically reviewed periodically by professionals for accuracy and relevance. We pride ourselves on our high-quality content and strive towards offering expertise while being authoritative. Our reviewers include doctors, nurses, mental health professionals, and even medical students.
-----------------------------------
Being a powerhouse of nutrients, chia seeds have become quite a favorite among foodies and fitness enthusiasts alike. With several benefits rolled in those tiny seeds, chia seeds dishes, especially chia seed pudding recipes have become popular on the internet.
If you are curious to try some delicious chia seed pudding recipes yourself, then stick to the end of the article as we line up some yummy chia seed pudding recipes.
A. What is Chia?
Chia seeds are tiny little seeds from the plant Salvia hispanica, which is related to mint. They have the ability to provide sustainable energy and are a dietary staple. These tiny seeds are a pack of powerful nutritional punch and are used in many vegetarian recipes, whole foods recipes, and protein powder.
Chia seeds are of two types- black and white. All the chia seeds share the same nutritional value. Chia seed pudding is one of the easiest and most delicious recipes that can be made for a simple breakfast or a healthy snack. You can make it simply using a batch of vanilla or coconut chia seed pudding in the fridge or mix more ingredients to make it special.
It is usually made with non-dairy milk and is rich in protein, full of Omega-3s, and packed with the goodness of fiber. It helps you to keep full and satisfied all day long.
You can use an online nutrition calculator to track the calories and macronutrients in your food in a simple way to help you set and meet your health goals.
B. Delicious Chia Seed Pudding Recipes
Chia seeds and milk are the basic ingredients of a chia pudding and listed down below are some recipes that are very easy to make:
1. Chai Latte Chia Seed Pudding
If you love the warm flavors of Chai, try this flavorful chia seed pudding recipe. It is made with a homemade creamy chai latte mix giving you a taste of autumn. It is a healthy breakfast recipe and can be enjoyed as a snack. It is the best for winters as it includes the comforting flavors of ginger, cloves, and cinnamon.
It is different from the average Vanilla or coconut chia seed pudding and is made using homemade cashew milk chai mix. It is a healthy treat and is naturally vegan, grain-free, gluten-free, and refined sugar-free. It has a creamier texture than any other store-bought product.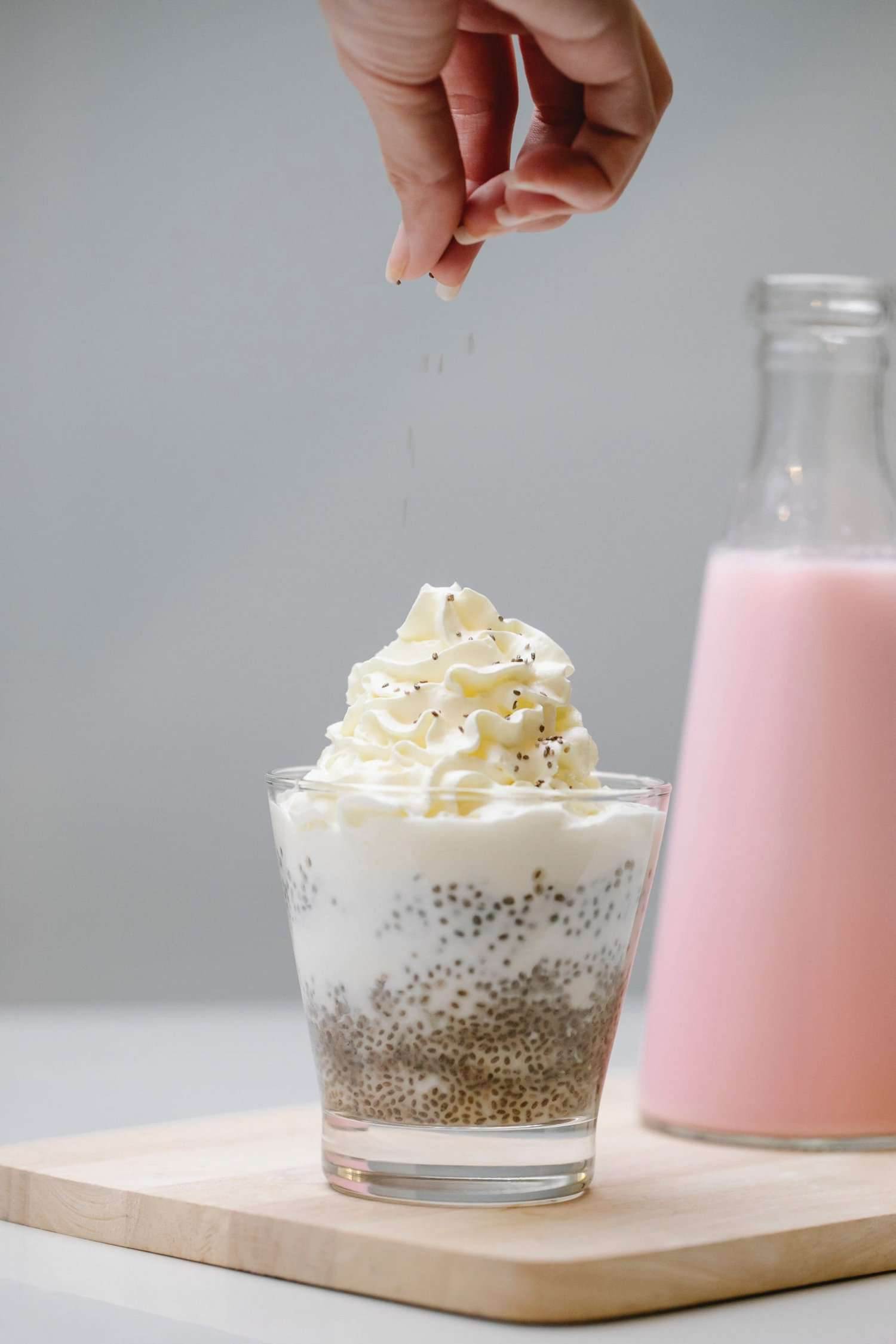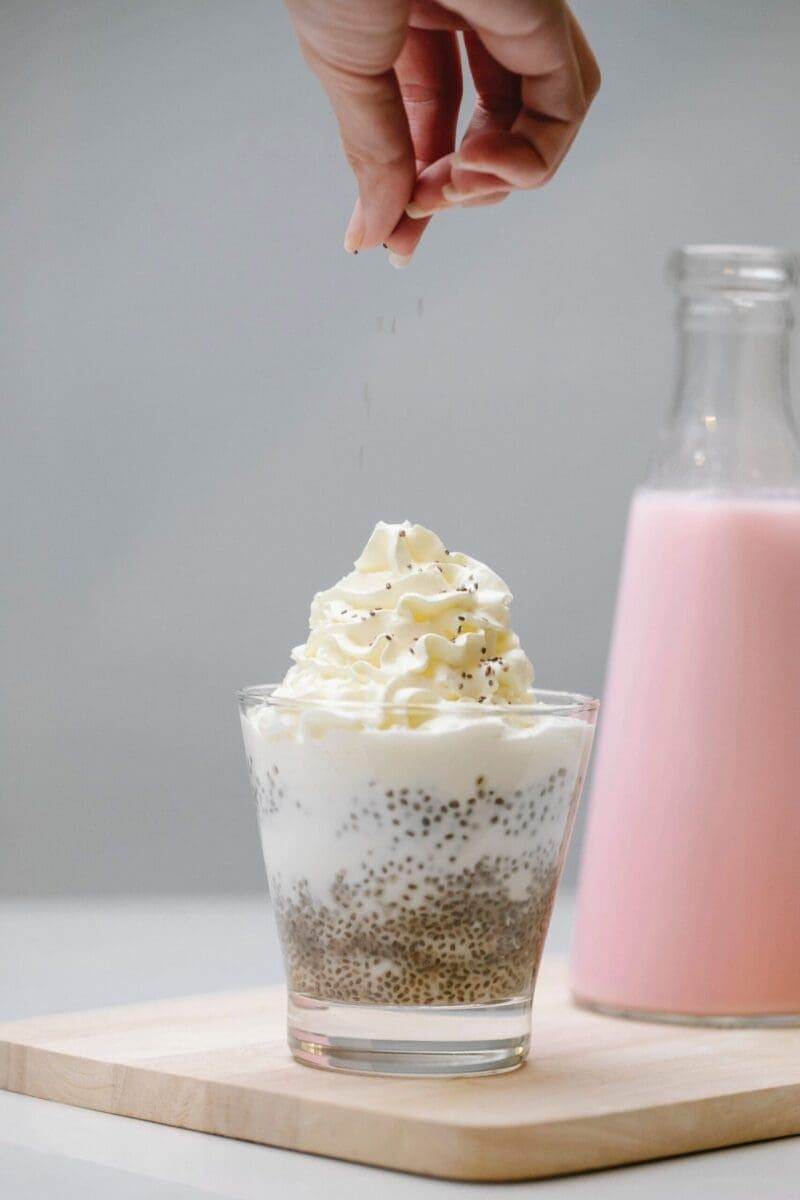 Ingredients:
11/4 cups water
2 chai tea bags
1/3 cups raw cashews, soaked overnight then drained
1/2 tbsp vanilla extract
1/2 tbsp maple syrup
1/2 tbsp nutmeg power
1/2 tbsp cinnamon
1/4 cups chia seeds
Procedure:
For homemade cashew milk
Use raw, unsalted cashews and soak them overnight in a bowl of water. This will make the cashews plumper and softer.
Drain the cashews and then add them into a high-speed blender with some water. Take a mini food processor and blend them for at least a minute until it turns into a smooth cream.
Transfer the smooth cream into a jar and store it in the fridge.
For the Chai Latte Chia Pudding Recipe
Keep the chai tea bags in some hot water for at least 5 minutes, then discard the tea bags.
Now transfer this water to a blender with cashews, vanilla, maple syrup, nutmeg, cinnamon, and vanilla extract. Blend until smooth.
Pour this mixture into a bowl along with the chia seeds.
Mix everything together using a whisk for at least a minute to make sure that the chia seeds and the chai mix are well incorporated.
Then let the mixture set in the fridge for at least 2 hours or refrigerate overnight.
You can serve it with your favorite whipped cream or coconut cream and with a dash of cinnamon.
Tips
Always use raw, unsalted cashews. Roasted cashews won't work for making cashew milk.
You can store this Chia seed pudding recipe in the fridge covered in a mason jar for up to 5 days.
2. Golden Milk Latte Chia Seed Pudding
This golden milk latte chia seed pudding is the perfect healthy breakfast, snack, or dessert. This chia pudding recipe ingredients include spices like turmeric, ginger, and cinnamon which are medicinal along with maple syrup as a sweetener.
It is a healthy recipe that is gluten-free and vegan.
Ingredients
1/4 cup of white chia seeds
1/2 tbsp turmeric powder
1/2 tbsp ginger powder
1/2 tbsp ground cinnamon
1 tbsp coconut flakes/ shredded coconut
a pinch of rainbow peppercorns
1 cup unsweetened coconut milk
2 tbsp maple syrup
1/2 tbsp vanilla extract
Procedure:
Pick a mix of spices and white chia seeds which are of high quality and organic.
Whisk all the chia pudding ingredients and coconut milk together in a mixing bowl until they are well combined and smooth.
Let it sit on the counter for 5 minutes, then give it another whisk.
Cover the bowl and place the chia pudding in the fridge for at least one hour or fridge overnight to let it thicken.
Then enjoy it with topped coconut cream, coconut flakes, chopped nuts, or a sprinkle of cinnamon.
Tips
Whisk the chia seed pudding mixture well to prevent any clumps.
If you find the taste of turmeric strong, start with half a tablespoon and then add more according to your need.
Always use good quality coconut milk or other plant-based milk. This will give a better flavor and texture to your chia seed pudding.
You can also store it in a mason jar in the refrigerator.
3. Raspberry Chia Seed Pudding
This is an easy-to-make chia pudding recipe with only three ingredients. This is a delicious delight which you can have at any time you like. Raspberry is high in fiber. You can even customize it with your favorite fruit or a topping of chopped nuts.
Ingredients:
1 cup canned coconut milk
1/2 cup raspberries
4 tbsp chia seeds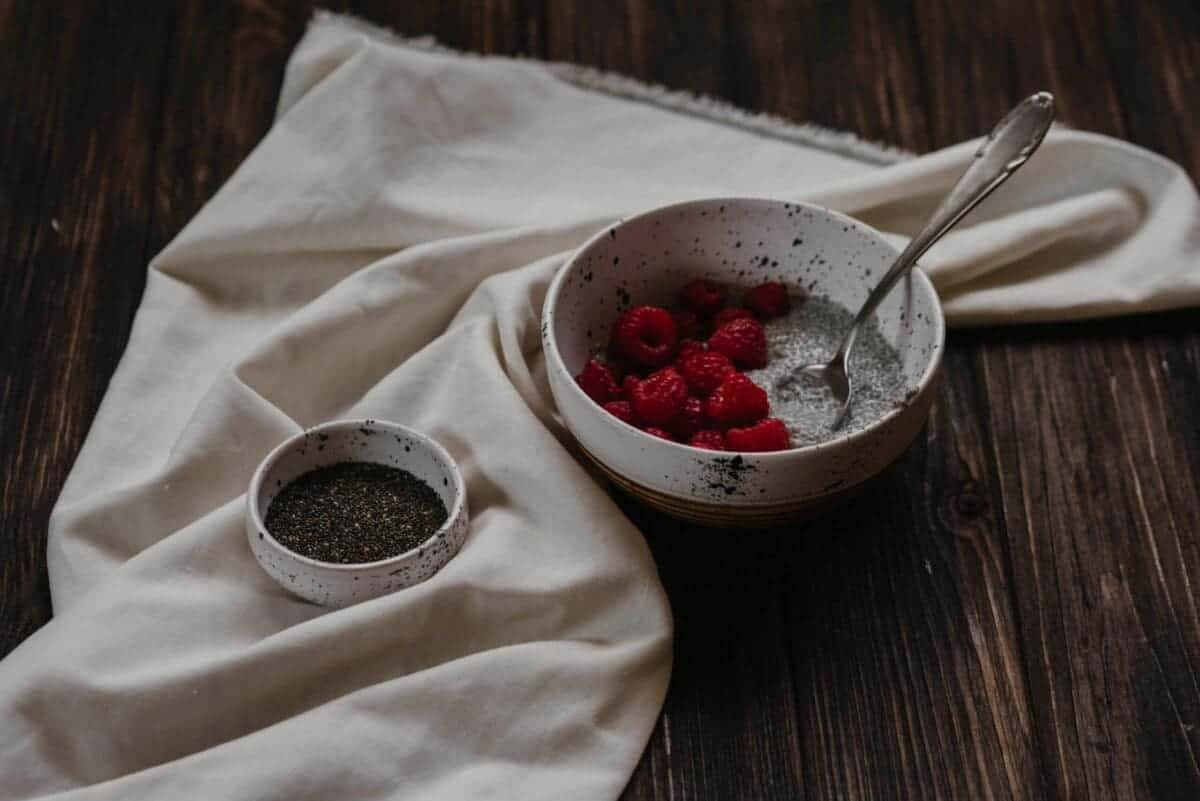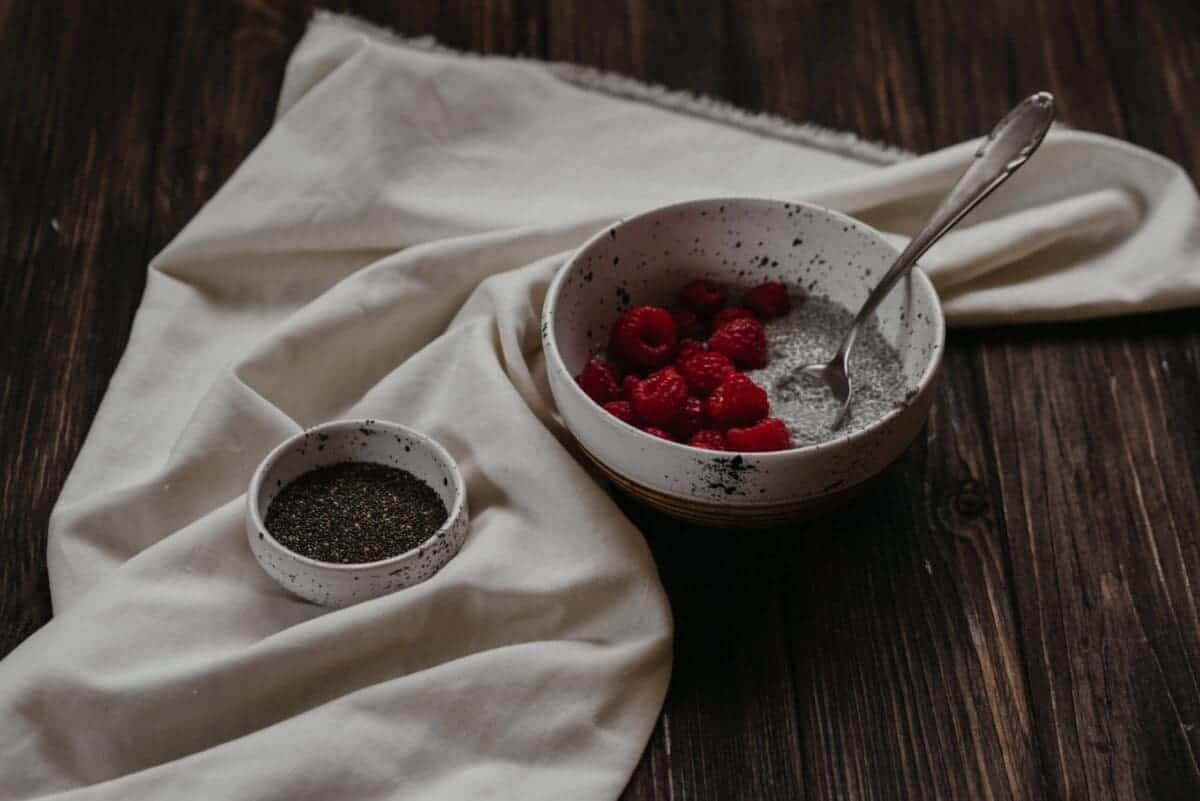 Procedure:
Take fresh raspberries and combine them with the canned coconut milk in the jar of a blender.
Now blend the mixture until smooth.
Pour it into a mason jar and add the Chia seeds.
Depending on your preference for sweetness, add a few tablespoons of honey or maple syrup.
Now close the lid tightly and give it a good shake.
Refrigerate this mixture and allow it to gel for at least 3 hours or overnight.
Tips
You can try new flavor combinations and use different fruits and berries in place of raspberries and create more chia seed pudding recipes.
4. Mix Fruit Chia Seed Pudding
Chia puddings are an easy breakfast cuisine. The recipe is vegan and low in blood sugar. It is a great recipe for those people who don't have time to cook a healthy breakfast.
Ingredients:
4 tbsp chia seeds
1.5 cups unsweetened almond milk
4 tbsp coconut sugar
1/4 tbsp ground cardamom/ ground cinnamon/ vanilla extract
1 sliced banana (or any fresh fruit of your choice)
3 to 4 sliced strawberries
2 tbsp pine nuts (or any nut of your choice)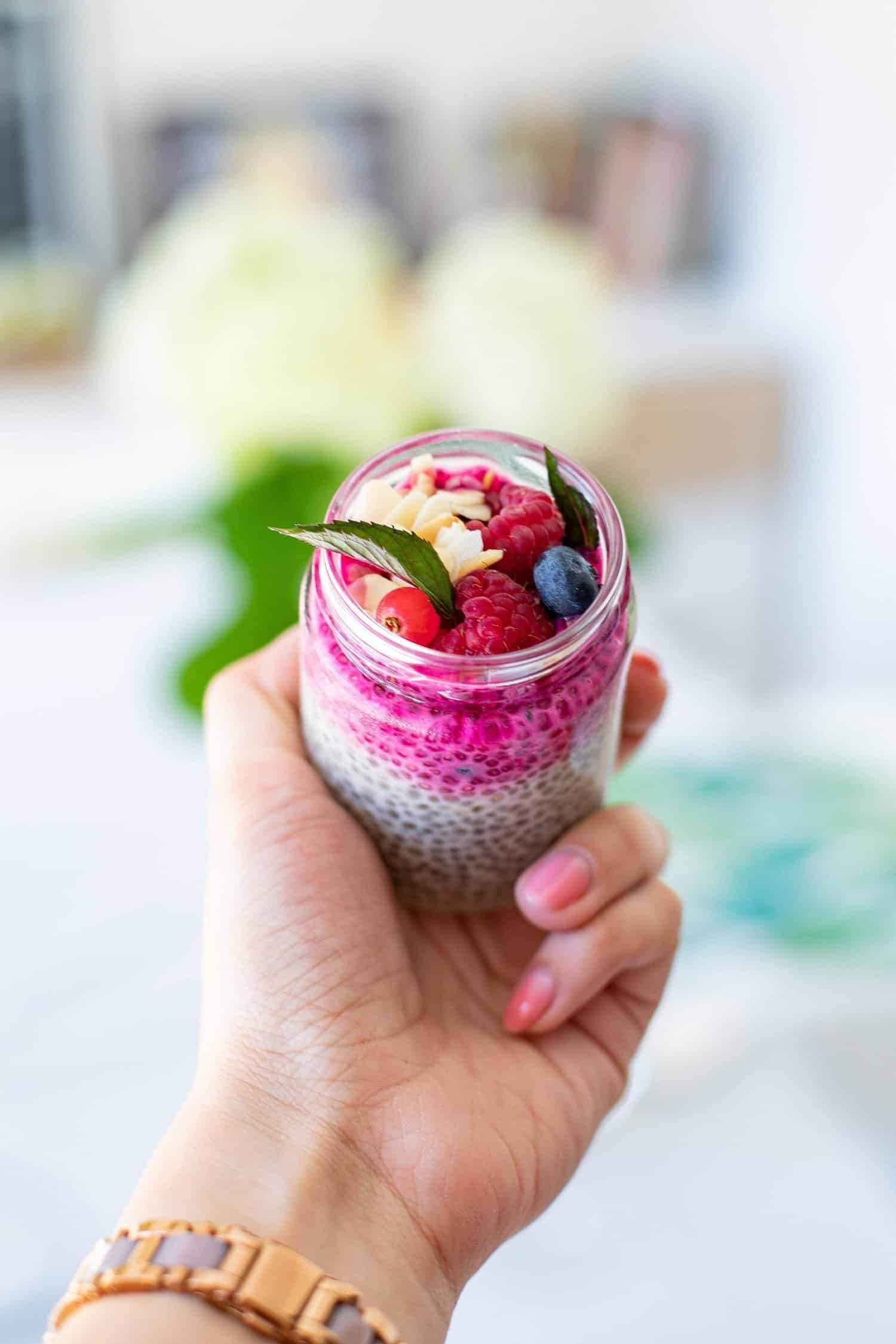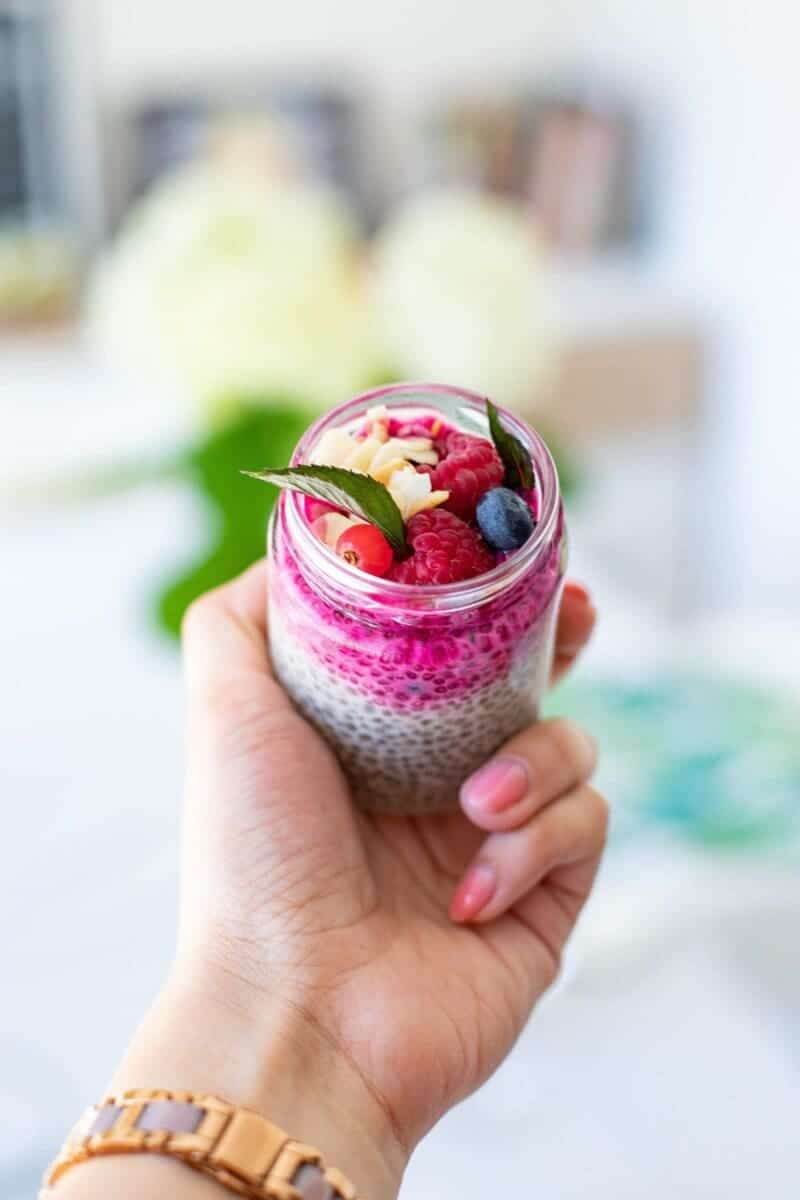 Procedure:
In two glasses, divide the chia seeds, almond milk, coconut sugar, ground cardamom, or ground cinnamon equally.
Makes everything until the coconut sugar is completely dissolved.
Cover and place the glasses in the fridge for 2 hours or refrigerate overnight.
Take it out of the refrigerator. By this time the porting will be thickened. Stir again to break lumps if any.
Top it up with chopped fruits and nuts.
Serve straight away.
Tips
You can also use store-bought almond milk or homemade almond milk.
While dissolving the coconut sugar, break if any lumps are present with a spoon.
5. Dark Chocolate Chia Seed Pudding
If you are looking for a chocolate delight without regret, dark chocolate Chia pudding is the thing for you. This combination has a base of creamy chocolate pudding and a divine taste.
Ingredients
3 tbsp black chia seeds
2 tbsp raw cacao powder
2 tbsp maple syrup
3/4 cup almond milk
For garnish- chopped hazelnuts, chocolate chips, coconut yogurt
Procedure
Take the back Chia seeds, raw cocoa powder, and almond milk in a bowl.
Initially mix maple syrup according to your preference and allow the mixture to sit for about 10 to 15 minutes until it thickens.
Give it a good stir and transfer it into an airtight container.
Refrigerate this mixture and allow it to gel for at least 3 hours or overnight.
Top it with coconut yogurt nuts and some chocolate chips before serving it in a bowl.
Tips
If you're not a fan of the tapioca pudding-like texture, use a blender to blend the mixture for a smoother consistency.
If you plan to freeze it, do it in individual servings and use a freezer-safe ziplock bag or glass mason jar.
6. Pumpkin Chia Hemp Seed Pudding
It is a creamy, dairy-free breakfast pudding that is full of fall flavors. It is vegan, gluten-free, paleo, and naturally sweetened.
Ingredients
2 cups unsweetened coconut milk
1/2 cup chia seeds
1/2 cup hemp seeds
1/2 cup pumpkin purée
3-4 pitted Medjool dates
1 tbsp vanilla extract
1.5 tbsp pumpkin pie spice
1.5 tbsp cinnamon
1/4 tbsp salt
Pecans (for toppings)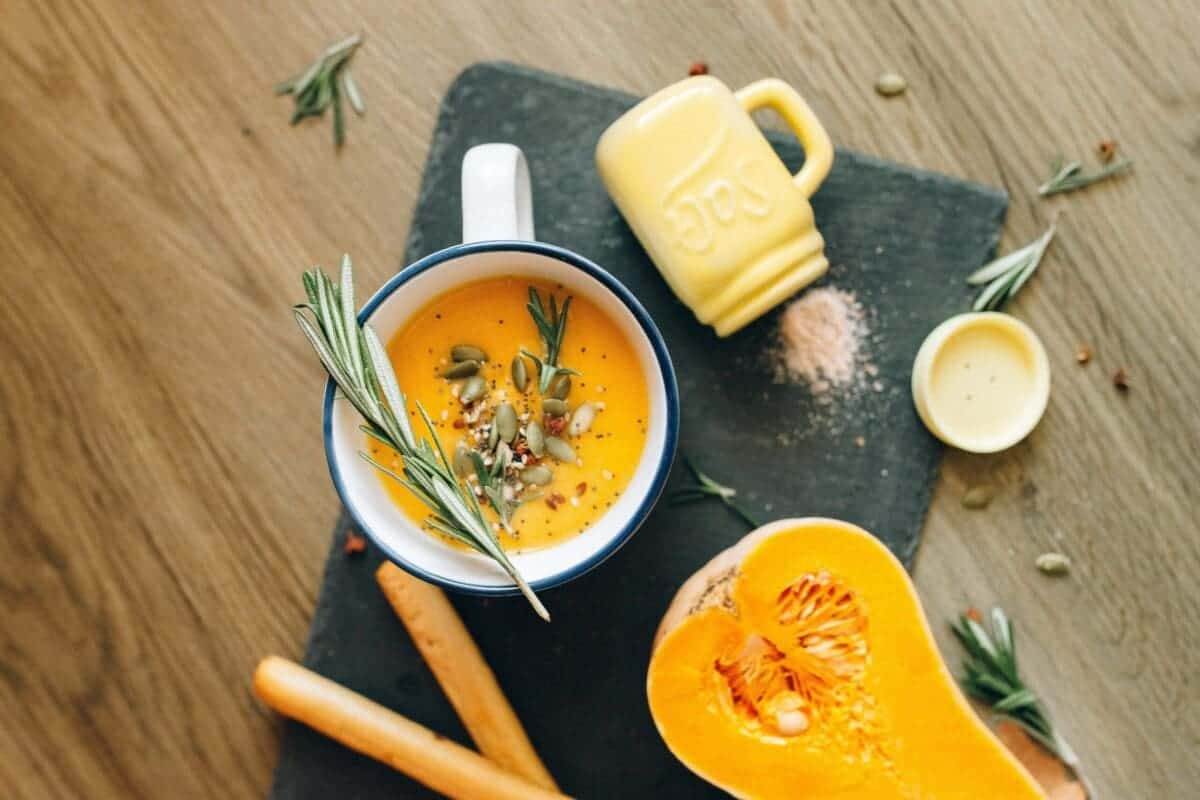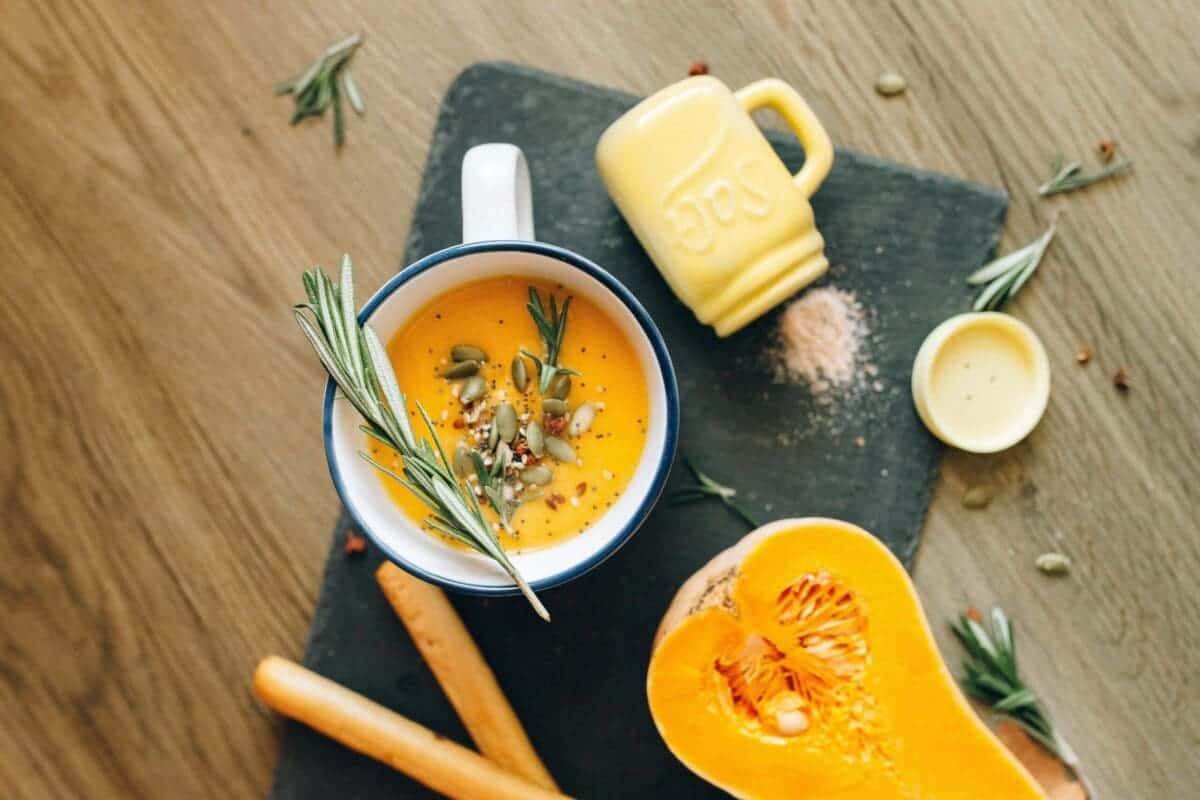 Procedure
Add all the ingredients (except the toppings) to a blender and blend until smooth and creamy.
Divide the mixture between four bowls, cups, or mason jars.
Cover and allow it to set in the fridge for at least a few hours or overnight.
When ready to eat, top it with coarsely chopped pecans.
Tips
You can pause the blender and scrape down the sides a few times until the ingredients are well mixed.
For an even creamier chia pudding, use 1 cup of full-fat canned coconut milk + 1 cup unsweetened non-dairy milk of your choice.
C. Chia Pudding Ingredients and Variations
Milk
You can make chia pudding using any nut milk like almond milk, oat milk, cashew milk, or coconut milk.
Fruits
You can add your favorite fruit to make it more delicious. Fruits like fresh strawberries, apples, bananas, blackberries, blueberries, and other fresh berries enhance the look and flavor of your puddings.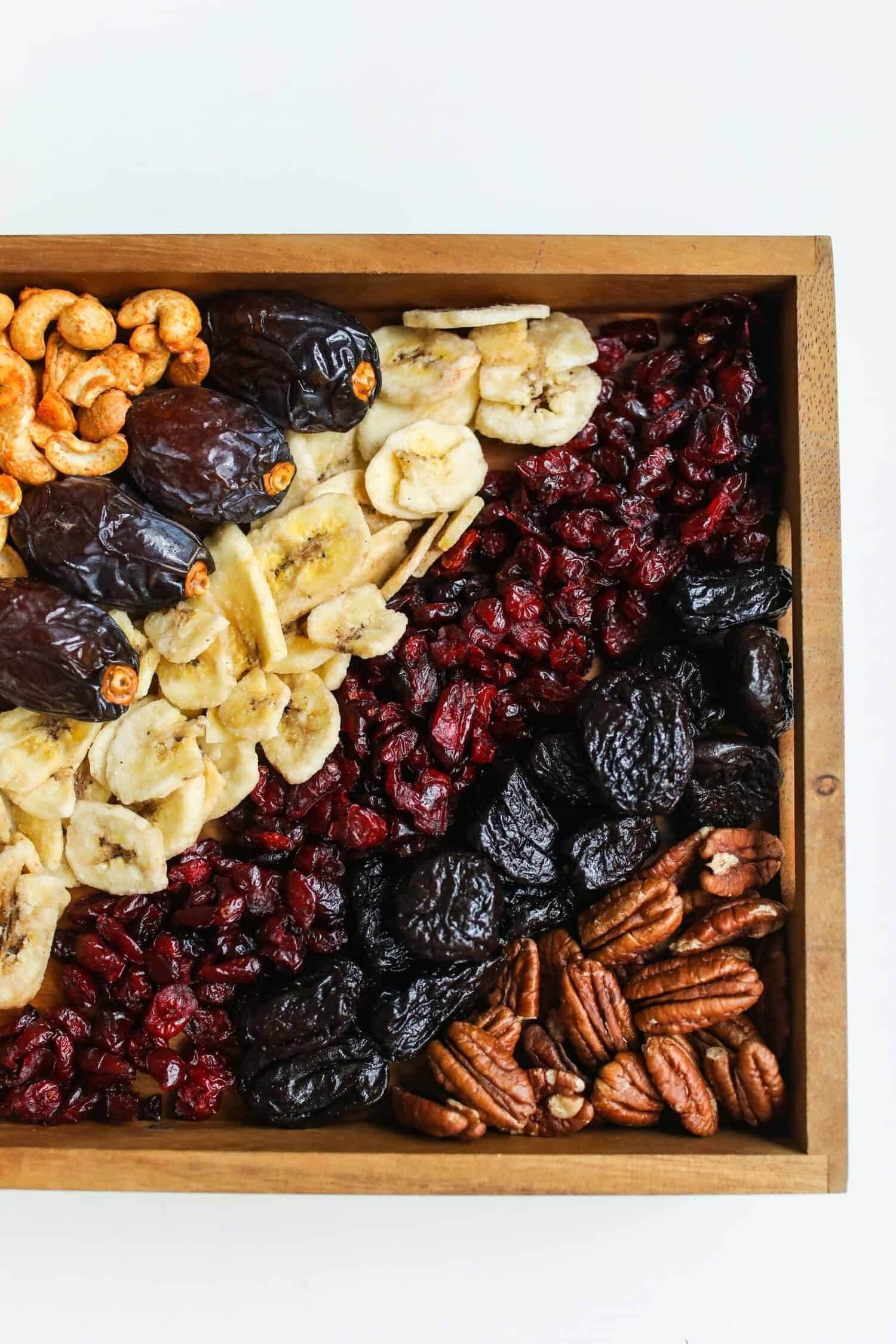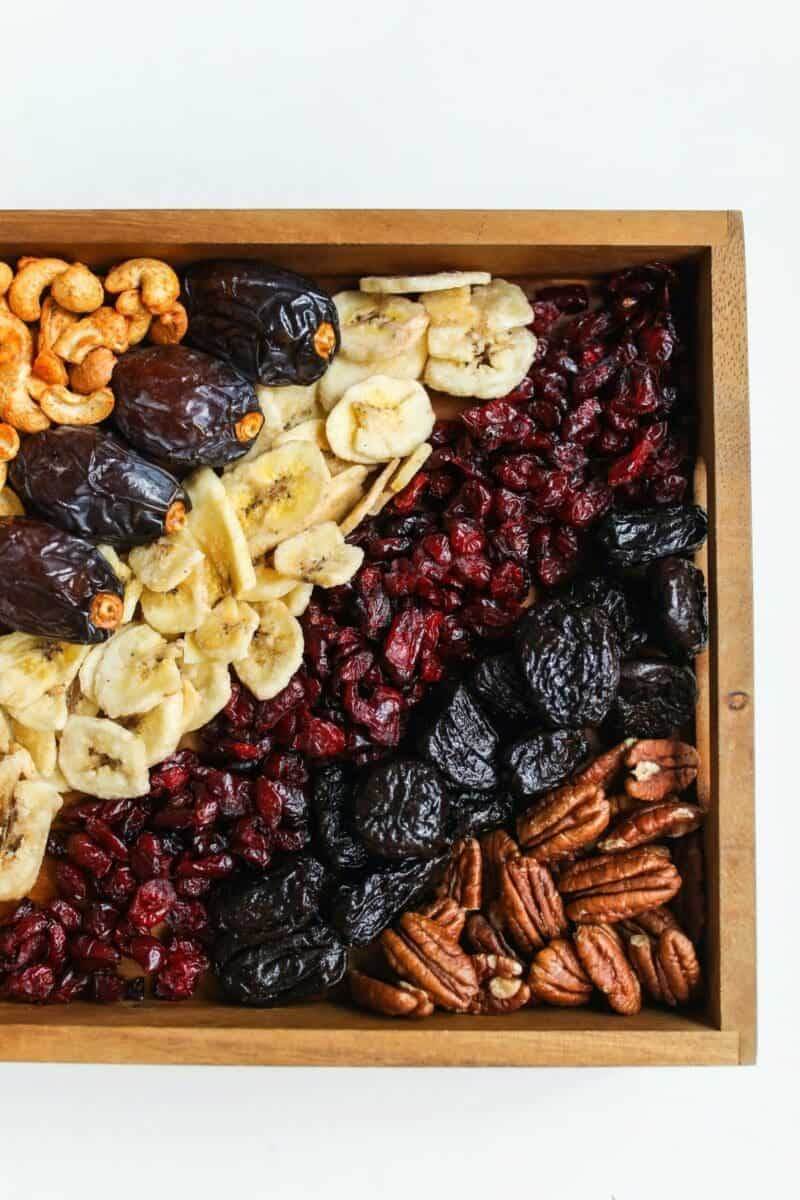 Nuts and Dry Fruits
Use dry fruits and nuts of your choice. Nuts and dry fruits like raisins, almonds, cashews, walnuts, pecans, pine nuts, and dried berries make an awesome meal prep option.
Sweeteners
Adding a little sweetener to your pudding increases the flavor of the chia pudding. There's a variety to choose from. You can use palm sugar, honey, coconut sugar, maple syrup, fresh fruit purees, and sauces for your chia meal prepping.
Flavorings
Flavorings like vanilla extract, ground cinnamon, ground cardamom, any citrus zest – orange zest, lemon zest, and fruit extracts make up amazing flavor combinations.
D. Tips
You have to add or reduce the liquid depending on the type of chia seed you use and the texture you prefer.
The texture may vary depending on the liquid you use. You may need more chia seeds if the liquid is of thin consistency to bring it to the right texture.
Coconut milk results in a thick Chia seed pudding as it has a thick consistency and high-fat ratio than other plant-based milk. If you find the Chia seed pudding thick, simply add extra milk and let it rest for some time.
If you find your chia seed pudding to be very thin, simply add more chia seeds into the pudding and mix them until well combined. Let the mixture sit for at least 30 minutes to absorb some of the liquid.
Use a whisk to make the chia seed pudding. This will ensure that your pudding does not end up having any clumps of chia.
Fruits and berries have their own natural sweetness. You can add lightly sweet ingredients like maple syrup or honey to balance the flavors.
E. Benefits of Chia Seed Pudding
• Chia seeds are rich in fiber. Chia seed pudding recipes increase fullness and slow the absorption of your food and you automatically consume fewer calories. This makes them a perfect recipe for weight loss.
• Chia pudding recipes are rich in Omega-3 fatty acids.
• All the chia seeds can lower the risk of heart diseases. Therefore chia seed recipes are excellent for heart patients.
• Chia seed pudding recipe has healthy fats.
• Chia pudding is high in many important bone nutrients. It contains loads of calcium, phosphorus, protein, and magnesium.
Bottom Line
There are endless ways of making Chia pudding. You can try these or experiment with more recipes. These can be found in almost every food blog and recipe website.
It is liked by people of all age groups. They are super easy and anyone can make it. Eat it fresh or store it in the refrigerator.
While at times contributed by guest authors, our content is medically reviewed periodically by professionals for accuracy and relevance. We pride ourselves on our high-quality content and strive towards offering expertise while being authoritative. Our reviewers include doctors, nurses, mental health professionals, and even medical students. -----------------------------------
Any information found on the site does not constitute legal or medical advice. Should you face health issues, please visit your doctor to get yourself diagnosed. Icy Health offers expert opinions and advice for informational purposes only. This is not a substitute for professional medical advice.