This article blog is all about okra and how to cook okra in different ways. We have here inspiring dishes with detailed descriptions of how to cook okra dishes like that.
Okra originated/ found from Southern Asia – West African region, known as Lady's finger, Ochro, etc., is now consumed worldwide.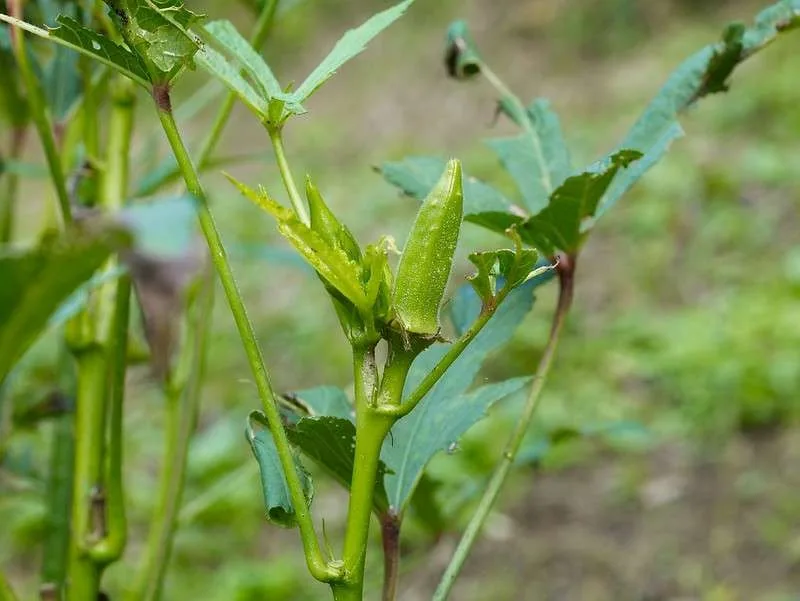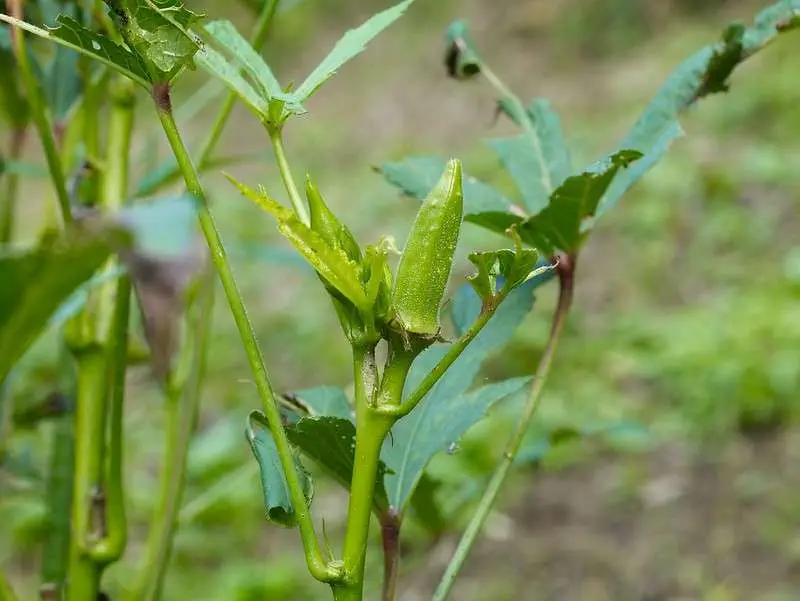 Okra is mainly available in the summers.
Okra is formed from a flowering tree of the mallow family. It is mainly cultivated in the warmer season, like spring. It takes 6-8 weeks or can grow even faster depending on care, nutrition, regular water grooming, etc.
The Okra tree can grow up to 1 to 2 feet in height. And it is green in color, and it is slim inside.
The Okra slime helps in digestion and has many other health benefits.
Okra tastes better when it is tender; upon maturing, it loses its edible feature a bit regarding taste and becomes grassy.
Fun Fact
This green veggie used to be one of the popular veggies earlier, but the opinion for this one has changed within a few decades.
Okra pods are among the most hated veggie of this generation, and also, according to a few search reports, it has secured the no. 6 position for receiving this much dislike.
Can I Grow Okra at Home?
Yes, one can grow okra at their home without much effort; ideally, grow it in spring; all you need to do is prepare your piece of land like you do for other home gardens, and do not forget to load it with Vermicompost.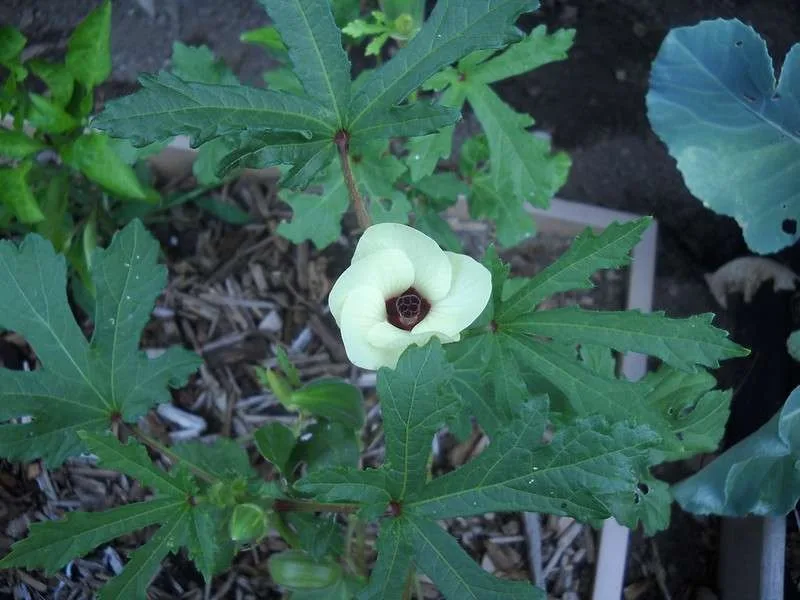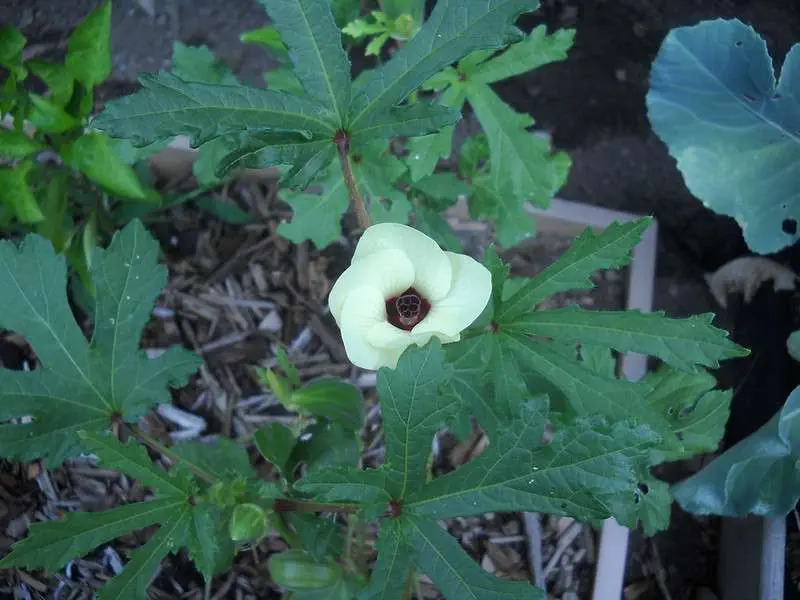 Place the okra seed in the ground and water it regularly, once in the early morning and the evening. Do not let any pest grow in the place; handpicking pests is preferred for a home garden.
Then within a week, you have your okra plant peeping out of the soil.
It will grow into a healthy plant within eight weeks and start flowering and bearing the okra if taken care of.
Benefits of Okra
As Okra is also among green vegetables, the color already suggests how nutritious it will be.
Okra contains vitamin C, Potassium, Sodium, Carbohydrates, Folic acid, Calcium, Magnesium, Iron, and vitamin B; these vitamins and minerals are essential for day-to-day life.
One pro-tip for Women
By leaving sliced okra in a freshwater bottle and letting it infuse overnight, this overnight infused water consumption can increase the vaginal lubrication and ease the vaginal dryness and soreness during sexual intercourse.
Also, Okra contains a lot of Oestrogen and Progesterone, which is beneficial for the female body, and its consumption increases female fertility.
Five easy ways to cook Okra recipes. The 4th one will stick to your mouth.
Before sharing how to cook okra, let me share some interesting facts.
Okra can be consumed in various ways, such as fried okra, okra pickles, and stewed okra. Roasted okra and there are plenty of other okra recipes, and we are going to share a few top tasted okra recipes here.
The vegetable is from Southern Asia – West African region; they have more okra recipes and more reviews about this vegetable, namely okra.
There is a variety of okra in the store; what should I choose?
Well, the cooking okra has nothing to do with shapes and all; the variety of okra in the shop is due to consumers' choice and nothing else; there is frozen okra, then there is slice okra, medium cut okra; this variety has nothing to do with the flavor. Therefore you can choose whatever okra you want to use.
Two useful Kitchen tips
1. Always buy/use tender okra pods; tender okra pods have much flavor compared to matured Okra.
2. Wash the okra pods well before cutting and cooking; otherwise, the hand and pan are slimy.
Fried Okra recipe
to prepare okra like this is easy; once you do this, you will be cooking okra like this forever.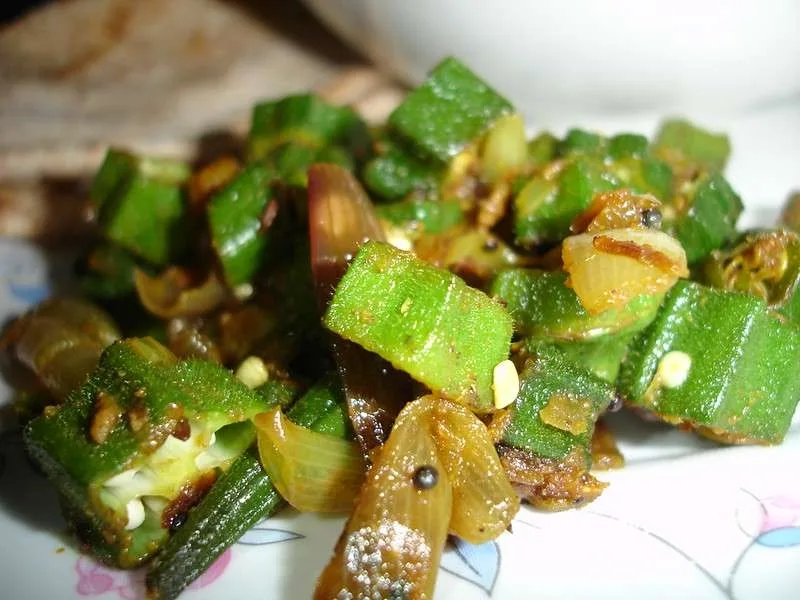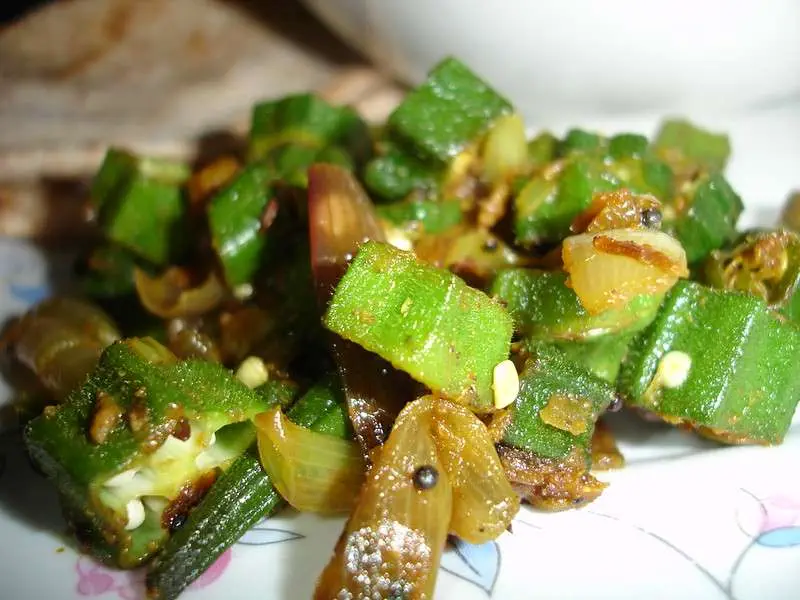 Recipe calls/Ingredients
Olive oil (oil preferences are as per the cooks choice)
Tender and Raw okra
spices of your choice (depending upon the choice of flavor)[it is optional]
Now let's dig into how to cook okra fries; this fried okra recipe is a side dish that can be consumed with rice as the main course.
To cook okra, take fresh okra, wash the whole okra well, and proceed to the next step of how to cook okra fries.
Cut okra into small pieces or slice them and then season it with salt and pepper as per taste.
You can also add spices like chili/garam masala/tahini mix but remember it is optional.
Now place the pan on the stovetop in medium-high heat and add a little olive oil or any other oil as per your choice, and now we are at the last step of how to cook okra fries.
Now place okra into the pan and stir fry it till it's wholly done; you can also change the heat density as per your need to cook it slowly and evenly.
Now your okra fries are entirely ready, you can serve the okra with fresh herbs like parsley or scallions, but it is perfectly optional.
Now enjoy your okra fries the way you want. Yet having it with rice is the standard serving suggestion.
The dish mentioned above was just the okra fries; now, we will move to more exciting okra recipes, namely okra pickles.
Two more extra kitchen tips
If you had cut okra before washing it, then after washing it, dry the okra with the help of paper towels as it will quickly absorb the slime liquid.
You can also use frozen okra to lessen the slime texture. Wash it and freeze the fresh okra in the freezer, slice it quickly and cook instantly.
How to cook Okra pickles
Though okra pickles went from most loved to most hated food in a few generations yet okra lovers can try it on; some people might feel okra in a pickle, " YEW! how slimy it will be" well, not, in this case, the okra in the pickle does not taste anything like that instead it is crunchy sour and very very nutritious. We will learn here how to cook okra pickles.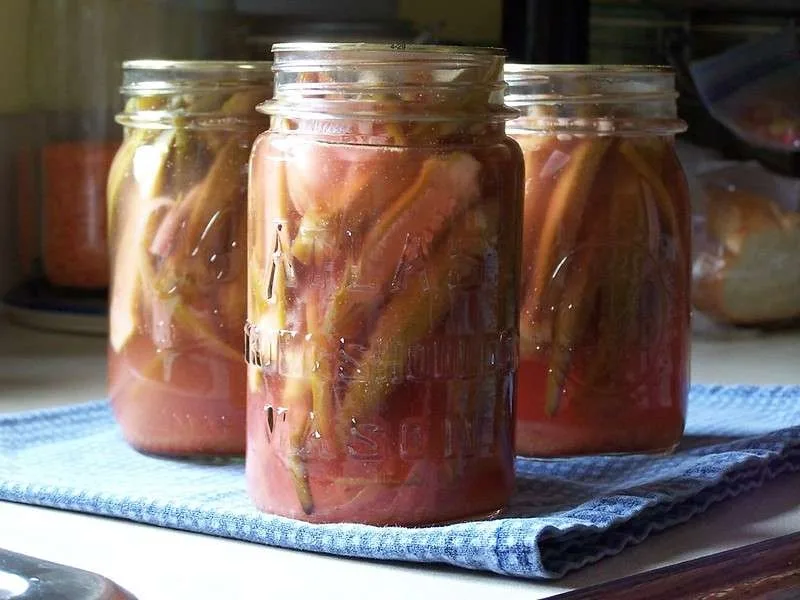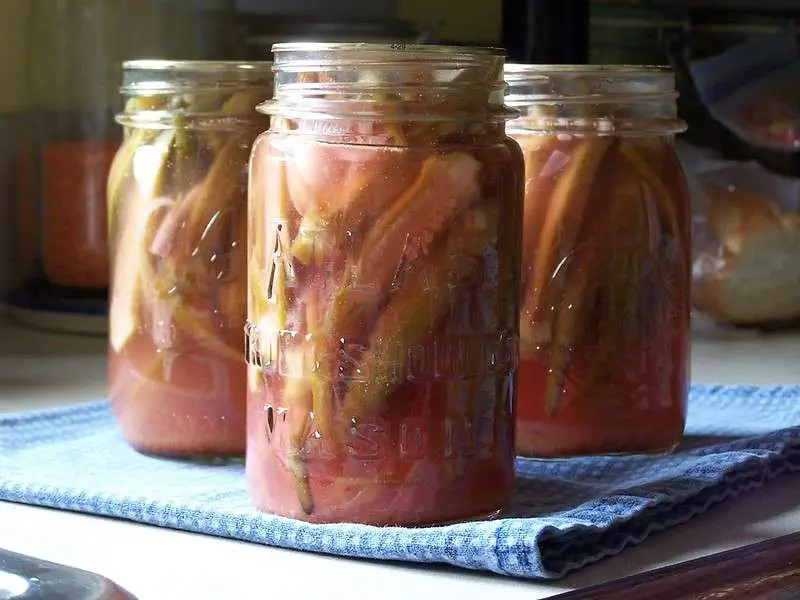 Recipe calls/ Ingredients
washed and trimmed okra
vinegar
Two tablespoons of lemon juice
4-5 baby bay leaves
Two teaspoon coriander seeds
Two teaspoons of the whole peppercorn
One teaspoon of sugar
Three teaspoons of salt
chili
Three garlic cloves
fresh herbs (dill is more preferred here)
fennel seeds (optional)
Okra Preparation
use baby okra pods, trim and wash them nicely. You can even use slightly roasted okra
Spice preparation for okra
add olive oil to a pan, then add 1-2 baby bay leaves, fennel seeds (optional ), smash the peeled garlic, and add it along with chopped chili, a little bit of whole coriander and pepper, and fresh herb like Dill fry it till the aroma hits your nose, once done remove it from the heat.
Let us start making the brine.
take a separate pan, add whole grain black peppercorn and coriander seeds roast them until the coriander seed pops in the pan
once the seed pops, add 1 1/4 cup white vinegar, bay leaves, salt, and sugar. Add less sugar if you want it less sweet, but if you prefer sweet, adjust the sugar as per your taste.
Now the final step
take a clean, washed jar, add the roasted okra/or just the raw okra add the spices into the jar, add the brine, and let it sit for a day or two days. Thus your okra pickles are ready. This was one of the easiest recipes you will come across for cooking/ preparing okra without much effort.
Serving Suggestion
Serve it with fried sausage, and this is going to hit the spot
Let's learn how to cook okra soups/Stewed okra recipe
This is one of the most unpopular recipes ever, yet it will be one of your favorite foods! You saw that right. This stewed okra recipe will be your new favorite recipe, and also, if you share it with your mates, it can be a crowd-pleasing recipe too, so let's jump into how to cook okra soup.
Ingredients
frozen okra
Olive oil
Tomatoes
green chilies
onions
lamb meat
pomegranate molasses
fresh herbs like Cilantro or Culantro.
Now let's start cooking okra.
Take frozen okra ( okra without planting the stem). Now deep fry the okra in oil. Remember, the okra must be deep-fried whole. Do not chop the Okra.
You can use can tomatoes will be less hectic than washing, boiling, and peeling them. Take a large bowl, add tomatoes and a whole garlic paste, add salt and pepper,
Take water in a pot, add lamb to a large bowl, and boil until the lamb is mushy.
Add the lamb broth and pomegranate molasses to the bowl, place it in the gas oven on high heat, let it boil, turn the high heat to low heat, start cooking it for at least 15 minutes, and stir it continuously while cooking okra.
Then add the lamb and okra, and mix it well. Now put it back into the oven and start cooking okra for another 15 minutes, till it absorbs all the flavor.
Serving suggestions
Now you can eat it by adding/ sprinkling diced onions and cilantro/cilantro, and also, you can eat this cooked okra as a side dish or as a main dish/course.
Sounds crazy, right? How the fried okra/deep-fried recipe turned into one of the delicious recipes.
How to cook okra gumbo
Gumbo is also a cooked okra dish; this dish is famous in the southern united states; people eat gumbo with a great taste. Gumbo can also be made without okra, but let's try making it with okra. Here we described how to cook okra Gumbo.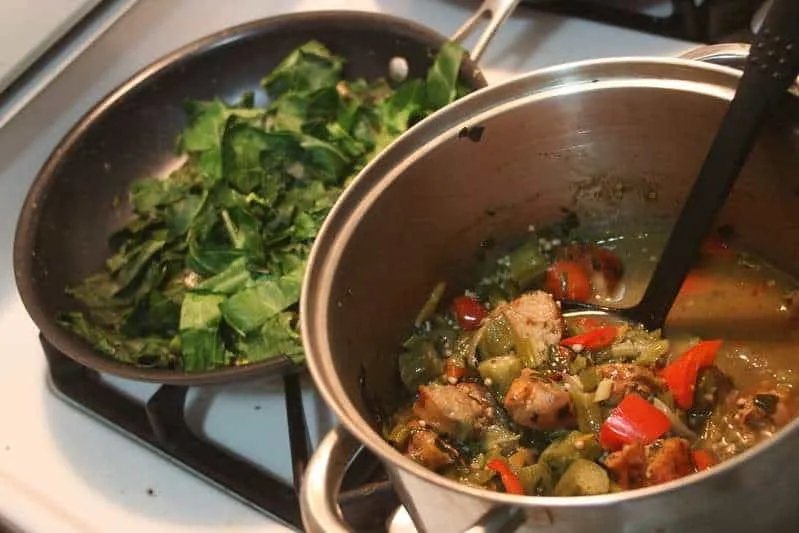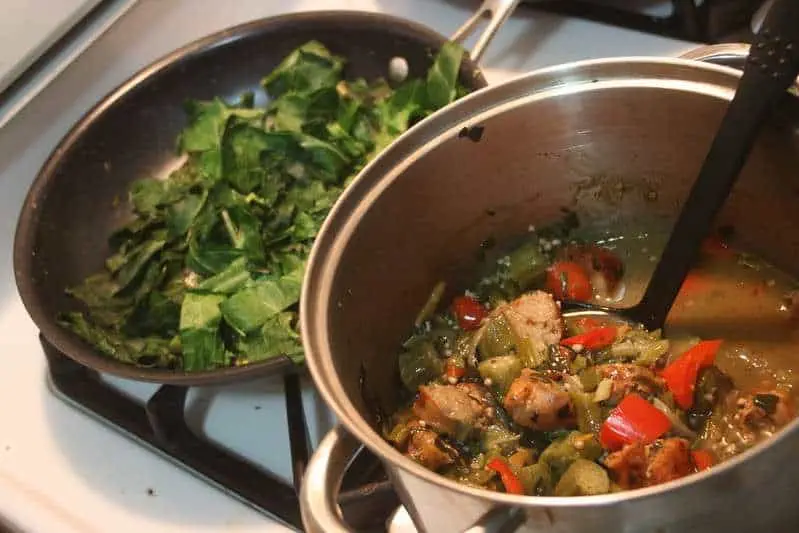 Recipe ingredients
Oil
onions
garlic
common vegetable
spices
jalapeno
chicken thighs/shrimp
Canned tomatoes
Use fresh okra for this recipe; slice up the okra into little bit big pieces,
add a fair amount of butter/olive oil in a skillet, add your diced chicken thighs or shrimp, add seasoning/spices like chili powder/ Black-pepper Sea-salt and cook it till the color changes.
Add your diced onions and stir fry them and all the chopped common vegetables. Also, add 4-5 minced garlic cloves and stir them for some time more but do not burn the garlic. Remember always to reduce the heat.
Now add the whole canned tomatoes and water to the cooking pot and add all the seasoning of your choice.
Now add okra into the soup, stir it, and add the chopped jalapenos, now let the okra simmer for about an hour, and it will change the color. This kind of cooked soup is called gumbo.
You can also add a thin layer of rice to this soup; once the rice is cooked, your gumbo is ready to eat.
Well, adding rice into the gumbo is optional. You might skip it if you want to, and also, you can add butter on the top for extra seasoning as per choice.
Okra has other healthy recipes, and here you will find the tastiest ones among all the dishes; using/eating oven-baked roasted okra is also healthy.
We roasted Okra's life-changing homemade snack.
Let's learn how to cook okra and turn this into a delicious snack.
Preparing okra this way is very easy; once tried, you might like this roasted okra so much that you turn this into your regular snack.
For cooking Roasted okra, all you need is a preheated oven and okra
cut the pods into strips removing the seed inside, (Note:- okra without the seeds are the main steps here for cooking roasted okra)
season the okra with your favorite seasoning and butter, then bake it until crispy.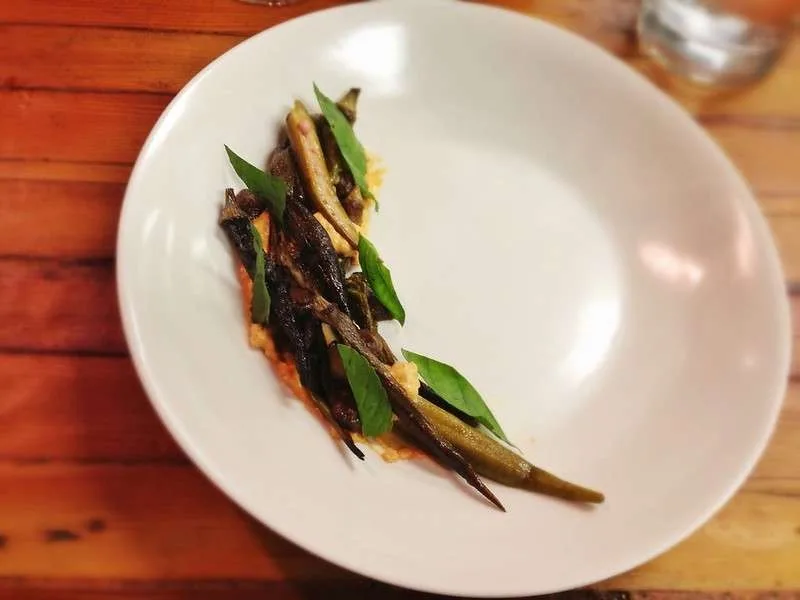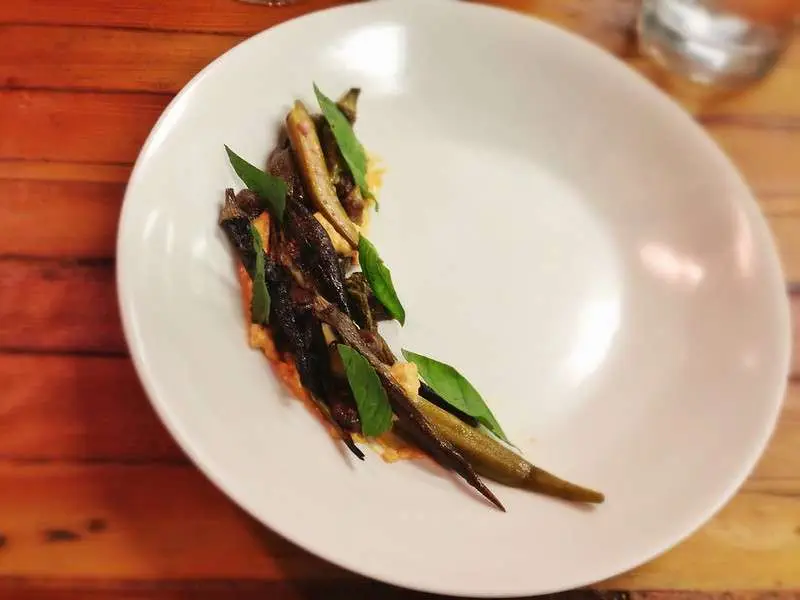 You can add this to a salad or enjoy this as a snack.
I am sure you have never tried the roasted okra cooked this way. I hope you have liked all the recipes and will try all of these recipes shortly.
If you liked this article, here is something more.
——————–
While at times contributed by guest authors, our content is medically reviewed periodically by professionals for accuracy and relevance. We pride ourselves on our high-quality content and strive towards offering expertise while being authoritative. Our reviewers include doctors, nurses, mental health professionals, and even medical students. 
Do note that any information found on the site does not constitute legal or medical advice. Should you face health issues, please visit your doctor to get yourself diagnosed. Icy Health offers expert opinions and advice for informational purposes only. This is not a substitute for professional medical advice.