In this article, know the benefits of Tea tree shampoo and add a healthy and glossy shine to your hair now. Read and find out if this is what you need in your hair care products.
Where did Tea Tree Oil originate?
Initially known for its medicinal properties, the tea tree oil (in tea tree shampoo) was used by the Aboriginal people in Australia – taken from the Melaleuca alternifolia plant leaves.
It can seem colorless to a light yellowish one with a medicinal odor similar to camphor.
Its uses vary from treating common colds, sore throats to hair care. It was only in the 20th century that tea tree oil started selling as a commercial product. 
1) Benefits of Tea Tree Shampoo and Oil
Tea tree oil, being a natural plant extract, is used to help with skincare and inflammatory conditions.
Tea tree shampoo, full of antibacterial properties, is helpful for hair in the following ways:
1.1) Hair Fall Reduction
A prominent feature of the tea tree shampoo is preventing the blocking of the hair follicles. This makes the roots naturally stronger, thus reducing hair fall – a common problem in the majority.
1.2) Reducing Dandruff
The anti-fungal properties of tea tree shampoo ensure that the itchy sensation and flaking caused by dandruff goes away, so constantly using it can lead to dandruff-free hair.
Tea tree oil's antibacterial and anti-inflammatory properties also help those with excess oily hair.
Oily scalps, caused by producing excess oil by sebaceous glands, can be avoided with tea tree shampoo that keeps the hair moisturized and improves scalp health.
 Research shows the effectiveness of tea tree shampoo in removing dandruff. Check it out for yourself.
1.3) Increasing Hair Growth
The healthy nutrients in tea tree shampoo will provide shiny and strong hair by nourishing the hair roots, also caused by the removal of toxins that prevent the growth of hair.
1.4) Increasing blood circulation
Tea tree shampoo mixed with other healthy and therapeutic oils can improve blood circulation with its usage significantly.
1.5) Removing Lice
Many of us face bacterial infestation, some during school days, and others may be at their workplace – applying a natural tea tree shampoo might help kill them quickly.
Check out the link that shows research on tea tree shampoo effects in removing the same.
1.6) A Cure to skin disease
Skin diseases affect everyone differently and cause severe physical and mental health changes, and sometimes natural oils used to cure these can help ease a part of the problem.
For instance, a skin condition affecting the scalp, chest, and face called Seborrheic Dermatitis can be treated with the help of this natural product, which treats dry scalp. (however, consulting a doctor whether it's safe to use on certain hair types is recommended).
1.7) What are the other ingredients to make the shampoo?
It's always more effective and fun to make your shampoo suitable for your hair. Here are the essential oils that gel well with tea tree oil:
1) Vitamin E
2) Lavender
3) Rosemary
4) Sweet Almond
5) Peppermint Oil
6) Shampoo base
Here is a link to one such video with the correct quantities and ingredients used to make homemade tea tree shampoo.
2) How can tea tree oil be used for hair?
The natural oil can be used by itself or as an ingredient in shampoos. Research indicates the oil to be applied as shampoo on the scalp to avoid irritation on sensitive skin. Here are the two main ways:
2.1) Tea tree oil with shampoos
1) Add a few drops (2 to 3) of tea tree oil with your average amount of shampoo and mix thoroughly in your palm
2) Leave it be on your scalp for almost five minutes and then rinse completely
Note: Avoid adding the oil to the shampoo bottle, as your skin sensitivity might differ. Similarly, Don't forget to test it out in a small area on your skin before applying it to the scalp.
2.3) Tea Tree massage oil
1) After shampooing, Tea Tree oil can also be used to massage the damp hair with your fingertips.
2) You can mix tea tree oil with an essential oil like coconut oil in case of irritation.
This might also increase blood flow and provide a healthier scalp.
Note: The oil can be slightly warm if one wishes for hot oil treatment; it gives the same effect of cleaning the hair thoroughly.
2.4) To remove Dandruff
1) Apply your regular shampoo with tea tree oil (5 %) on your scalp.
2) Lather for almost 3 minutes over four weeks.
This might soothe the scalp and prevent flakiness, tackling dandruff successfully.
2.5) To alleviate Itchiness
Dryness or itching of the scalp can be avoided with a tea tree oil hair mask: 
1) Choose your preferred hair mask – it can be something like yogurt and avocado paste, preferably having a thick consistency.
2) Add honey to the base of your choice with some tea tree oil.
3) Apply and massage the mask on your scalp. Wash it after 15 minutes.
2.6) For oily hair
Tea tree oil is non – comedogenic, i.e., it prevents clogging of pores and thus bacteria formation on the scalp. For oily hair:
1) Mix baking soda, honey, and tea tree oil to the scalp.
2) Massage the mixture for around 10 minutes. Leave it be for 3o minutes and then wash it off
3) Repeat twice a week to remove the excess oil and obtain a healthier scalp.
2.7) For lice
Tea tree oil works to kill lice with its insecticidal properties – with ingredients like cineole and terpinene-4-ol that prevent further damage. To clear the problem:
1) Mix a few drops of tea tree oil (7-8) in a spoon with vegetable oil and leave it through the night.
Preferably sleep with a shower cap that might help absorb the oil better.
2) In the morning, remove the cap, comb hair around five times, and then wash off with a hair cleanser.
2.8) Spray for daily use
Tea tree oil can be used to make a conditioner like a spray:
1) Take distilled water and add drops of tea tree oil (5 %) to it. You can add chamomile tea as well.
2) Store this mixture in a spray bottle to prepare a conditioner for daily use. These can be used with ordinary shampoos as well.
2.9) Hair growth
For healthier hair, the best way is to massage the tea tree oil with a carrier oil:
1) Take a few drops of tea tree oil (two to five) equal to a teaspoon of peppermint, almond, or olive oil. Mix and massage well onto the scalp.
2) Allow it to sit for around 20-30 minutes. You can wrap your hair in a warm towel.
3) A diluted mix of tea tree oil with water can be used for a final rinse.
This treatment can be done a maximum of three times a week. For better results, hot oils are preferred.
2.10) To Treat Ingrown Hair
Tea tree oil helps with ingrown hair in three ways:
1) To prevent ingrown hair, eight drops of tea tree oil with shea butter (1 ounce) is recommended.
2) To heal ingrown hair, 20 drops of tea tree oil with warm distilled water (8 ounces) is recommended. This also reduces inflammation and opens up pores.
3) To protect ingrown hair, a regular body moisturizer (1/4 cup) with ten drops of tea tree oil can effectively reduce the bacteria that will develop further hair.
The antioxidant properties in this natural product help protect the skin in general.
3) Best brands for Tea Tree Oil Shampoos
With the above multi-usage of tea tree oil, it's essential to know which brand and contents of a particular tea tree shampoo might fit you.
Here are some suggestions with good customer reviews:
3.1) Tea Tree Special Shampoo – Paul Mitchell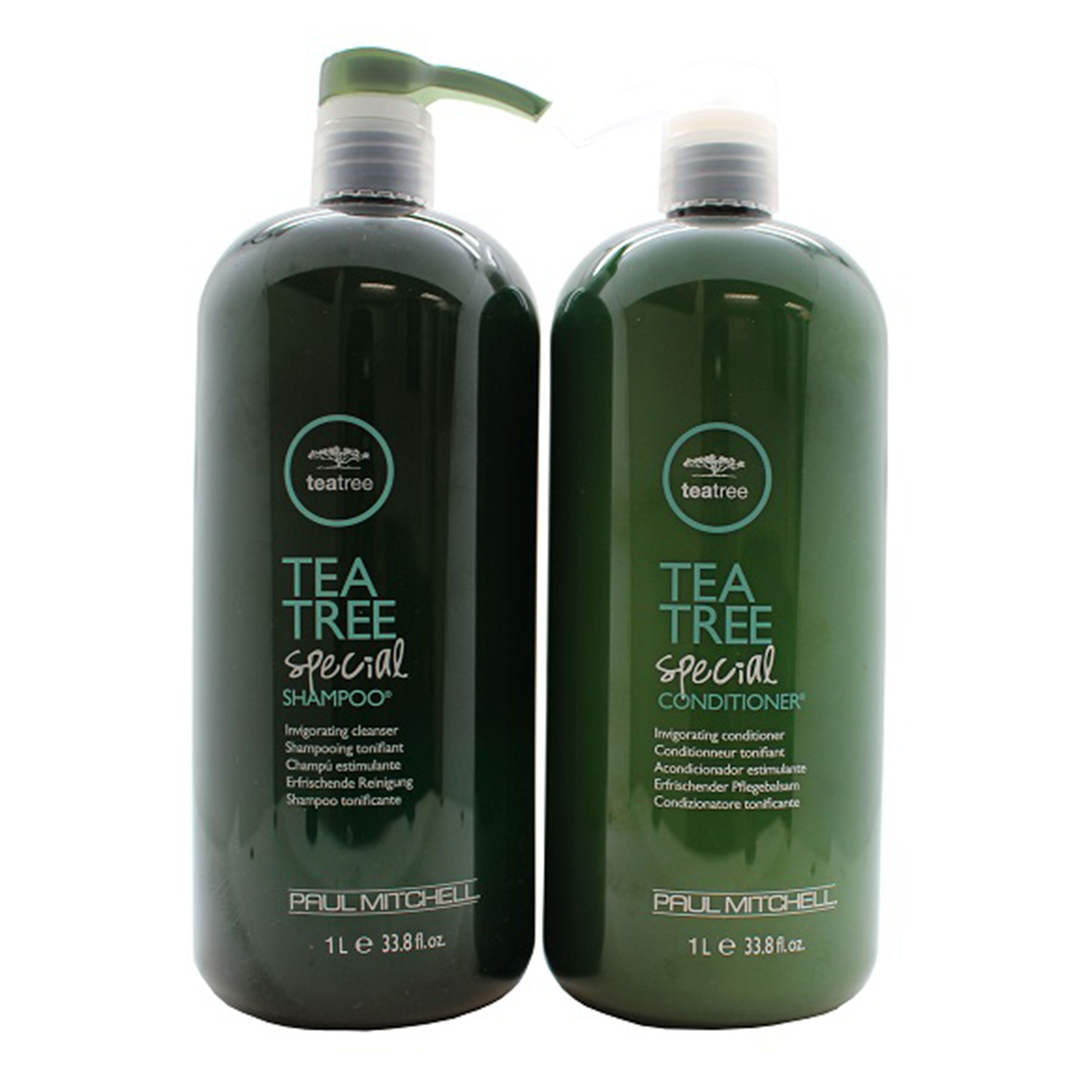 Looking for a shampoo that has been tested on all hair types? The Tea Tree Special shampoo is the best pick – with the famous tingle complex of natural tea tree oil, peppermint, and lavender to soothe and cool the scalp, leaving an invigorating tingle.
The best part is this particular mixture of the tea tree special shampoo will leave hair smelling great and provide a lustrous flow.
Environmentally friendly features of the tea tree special shampoo are: It is entirely color-safe, fully vegan to use, and Paraben free.
This tea tree unique shampoo mixture will help strengthen hair in the following ways:
1) Prevent Hair Loss
2) Treat Alopecia Areata
3) Reduce Dandruff
4) Overall growth of hair
How to use this tea tree special shampoo?
1) Take a small amount of it and apply it to damp hair.
2) Lather and rinse thoroughly.
What are you waiting for? Try hair care giant's best-selling tea tree special shampoo and review it yourself. Here's a link to buy the product.
The tea tree special color shampoo of the same brand is best suited for color-treated hair. Check it out as well.
3.2) Tea Tree shampoo with sage oil by Yes to
The perfect shampoo for a dry and itchy scalp is the Yes to Tea Tree and Sage oil one that has the ingredient of Salicylic Acid to moisturize and clean the hair gently.
How to use it?
1) Massage a proper amount of shampoo into wet hair and rinse
2) Wah it off thoroughly. Little tingles are expected.
This product is also environmentally friendly as it uses almost 97% natural ingredients, with parabens and silicones free.
Click here to purchase the product.
3.3) Head & Shoulders Anti-Dandruff Tea Tree Shampoo 
The best shampoo to remove flakes is the Head and Shoulders Anti Dandruff one, which removes all the residue, oil, and flakes to provide a healthy scalp.
This tea tree shampoo is recommended by dermatologists to treat dandruff, leaving back a fresh and minty scent. So, for healthy and prosperous hair – try out the product here.
For more shampoo recommendations that suit your needs, check out this link.
4) Is Tea Tree Shampoo and Oil always safe to use?
Tea Tree oil can cause mild irritation and inflammation in its undiluted form. Other than that, and it is safe to use.
Direct consumption of the oil is not recommended, as it is considered toxic in causing confusion, diarrhea, drowsiness, and rashes in case of ingesting it.
For certain people, like pregnant women, babies younger than six months, boys who haven't reached puberty, the product should be used with caution and advised for your body type.
The amount that can be used on animals is still under research, like its undiluted form may be more harmful to cats while it might help clean fleas on dogs. However, letting a veterinarian confirm is the best option.
Although there are no restrictions on using other skin and hair treatment options, it's best to check it once with your doctor.
5) What are the other uses of Tea Tree Oil?
5.1) Effective Hand Sanitizer
Research indicates that this essential oil kills natural bacteria and viruses that cause illnesses like E. coli, H, influenza, and S. pneumonia.
Adding this product to other hand cleansers can help better combat E. coli.
5.2) Effective Insect Repellent
Research on removing flies from cows shows those on whom this essential extract was used have fewer of these insects.
The product also has the effect of repelling mosquitoes, even more than certain repellents.
5.3) Natural Deodorant
The antibacterial quality of the extract helps control the underarm smell coming from perspiration. This might be an effective alternative to the store-bought deodorants as well.
5.4) Antiseptic Ointment
Broken skin can be easily infected with germs, and this natural extract can treat minor cuts by killing the bacteria like S. aureus that are a significant cause of infections.
How to treat?
1) Clean the cut area completely with daily soap and water
2) Mix a drop of tea tree extract with coconut one.
3) Apply a little mixture to the injured area and cover it with a bandage.
4) Repeat twice daily till the scab is formed.
5.5) Avoid Skin problems like Acne and Nail Fungus
Research indicates that this gel can reduce the number of acne breakouts equal to any other anti-acne relief. When the tea tree extract is combined with anti-fungal remedies – nail fungus can be cured, too. 
 So, tea tree oil and shampoo can be used for hair, skin, and other daily uses, making it a great product to acquire. Besides, isn't it always better to use less harmful items? So, try it out for yourself now and judge its product quality.
If you liked this article, check out here for another interesting piece on essential oils.