The human back provides support to the entire upper human body, also the weight-bearing capacity and stabilization. The back muscles play an essential role, and thus to keep them strong, back strengthening exercises for seniors are necessary.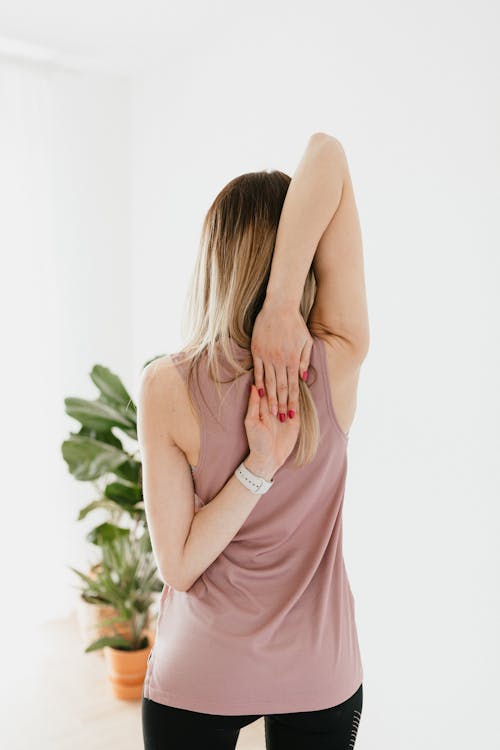 Back Strengthening Exercise for Seniors
The back muscles have essential functions. Some of them are:
Extensor Muscles: Helps in lifting objects and standing.

A large muscle is included in the lower back, which helps to support the spine and hips. 
Flexor muscles: It allows the movements such as flex, lifts, bent, and arch the lower back. It contains the abdominal muscles, and if the abdominal muscle is weak, then the back muscles help tighten the hip flexors and curve the lower back. It is attached to the front of the spine.
Oblique Muscles: They are located on both sides of the spine, allowing movements such as rotation and maintaining the proper posture. The seniors or adults who have back pain tend to have less muscle strength, and also, they are weaker, which is associated with the risk of falling.
Back Strengthening Exercise for Seniors
The back strengthening exercise for seniors must be done while sitting in a chair, room chair. It is good to neglect the armchair. Good posture will be easy to sustain if you are on a rigid surface.
No more equipment will be needed. Your knee should be in a 90-degree position and feet firmly planted. Do not perch on edge; instead, sit square in the seat. 
Some of the back strengthening exercise for seniors are:
1. Neck and Chest Stretch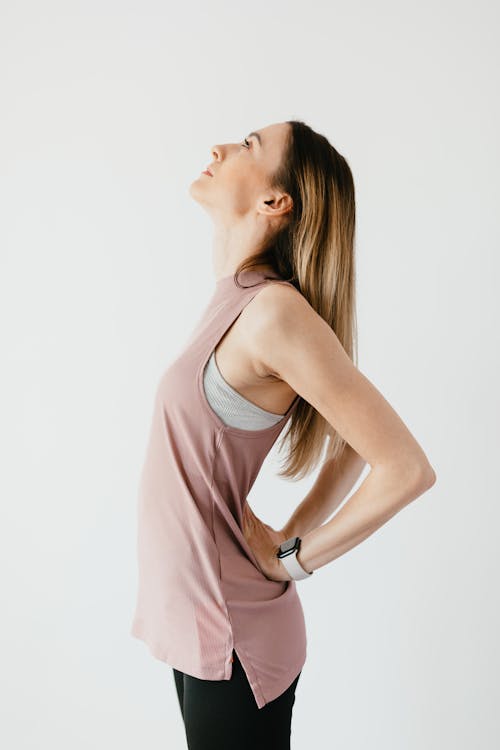 Before mobile phones or televisions arrived in our lives, humans still jutted their chins in front or down to eat, read, drive, etc. Unfortunately, this also uses neck problems and pain in the back or spine, mainly the upper and mid-spine. 
The back strengthening exercise for seniors mentioned below will help reduce the pain, and it also helps to stretch the chest out, which may feel kind of tight from the wrong body postured and may need to open from the back. 
Working: This back strengthening exercise for seniors stretches the trapezius muscle and scapulae muscle in your neck. Also, your erector spinae and pectorals spinae stretch and also gently work on your obliques. 
Sit on a chair, keep your feet flat on the floor, sit straight. Do not bend your back; bring your hands at the base of the skull, i.e., your palms facing the head, and keep them on rest.

The thumbs will be running from your ears to down the neck, and the fingers will e intertwined. This is also known as the "relaxed, laid back pose'.

Turn your face towards the ceiling, rest your head in your hands.

Inhale. As you exhale, release your left elbow to point toward the ground, and your right elbow may face towards the ceiling. This will help to stretch your neck in a supported way.

This has to be an easy movement; your elbows will only move one or two-inch as it a slight movement. It will not feel pain.

Inhale two deep breathes and release yourself back to normal, keeping your spine upright.

Repeat the same steps in the opposite directions, keep the right elbow facing towards the ground, and face the left elbow towards the ceiling. Do these 3 to 4 times on alternative sides. 
2. Seated Gentle Backbend
As we age, our upper and mid-back cervical spine and the thoracic spine start to curve forward. As mentioned above, our chins also begin to jut out or down as we perform the postures all day. Nowadays, it is the common postures one haves as it is the "lazy posture." 
This also gives the hunch in our body, which we were supposed to associate when we grow older. This also causes tension in our outback muscles, and the seated gentle backbend exercise can decrease this tension. This exercise very easy and the best back strengthening exercise for seniors. 
 Working: This back strengthening exercise for seniors stretches our anterior neck muscles, spinal extensors, and pectorals. 
Sit in a chair, and your feet should be flat on the floor. Keep your hands at the lower back of your body, and your thumbs should wrap around your hips facing towards your front body while your fingers should face down. 

Press your hand gently on your hips or lower back and keep inhaling. 

While you exhale, arch your spine gently with lead to your head. Do not backdrop your head too much. Just lead your cervical spine, tilt your chin upwards, face the ceiling so that your posture can be good. The back bending must take place throughout the upper and mid-spine. 

Hold this for a full five deep breaths. Then come back to your normal position and repeat this back strengthening exercise for seniors 3 to 5 times per week. 
3. Seated Cat-cow 
The lower back of most seniors' has pain for many reasons. As we get older, osteoarthritis and spinal degeneration become more common. When we have a terrible posture to stand with a flat pelvis also becomes common. 
Which will eventually cause back pain. However, doing the cat-cow or cat and camel exercise helps stretch the lower back muscles and keep the spine and core muscles healthy. 
Working: The combination of 2 poses stretches and works your serratus anterior, erector spinae, external abdominal oblique, iliac rib muscle, and rectus abdominus. 
Put your knees at a 90-degree angle, and your feet should be flat on the floor. Keep your hand on the knees, fingers should be pointing towards each other, and the hands should be outside your leg muscles.  

Keep inhaling and while you exhale, press your hands, and you're your back with the help of your entire spine. While your face should be pointing towards the sky, and your butt should be pressing a bit behind you. 

Inhale again, keep your shoulders forward and belly button towards the spine, drop your chin towards your chest, and push your knees with the help of your hands. 

While you exhale, reverse the actions by pulling the chest out through your arms, arching the spine, and pressing into the legs. 

Repeat this back strengthening exercise for seniors on your breath 3 to 5 times.
4. Reach Back
This stretch will help with your actions in the shoulders and the stretching of your chest and shoulder. When we stand leaned over or sit hunched over, it always feels good as we are resting in a slouch. This also created tension in the chest as pulling all the muscles in. 
The back strengthening exercise for seniors mentioned below works for the postural muscles, opens up the chest and improves your shoulder extension. 
Working: This back strengthening exercise for seniors gives you anterior deltoids and pectorals a good stretch. 
Keep your spine straight by keeping your feet flat on the ground gently, sit and inhale. While exhaling, keep your hands behind, and your hands should be interlaced. If interlace is not possible, and then you can hold opposite elbows or wrists. 

Inhale, you can feel the spine growing as you sit up taller. Keep your shoulders back and up. Keep moving your shoulder blades from down back. 

While exhaling, your arm raises only if your hands are clasped. If not clasped, then pull them gently in opposite directions, then open your back. 

Take three deep breathes, then release your clasp and return to normal. Repeat this back strengthening exercise for seniors three times. 
If you do not feel tired or sore in the back strengthening exercise for seniors mentioned above, you can start increasing its stretch or improving your ability, and in this, your entire spine will get involved. This will increase your spinal mobility and decrease pain in the other parts of the body. 
Starting position is from the stretch mentioned above by putting your hand behind while clasped or grabbing your opposite elbows or wrist. 

Inhale and lift your ribs and feel your spine grow. Keep that feeling in the range, lean at the waist, and bring your ribs to the thighs. 

Do not collapse with your legs. Get down up to the thighs; by using your postural muscle, hold there and stretch your shoulder, chest, and back. 
5. Gentle Twist: 
This back strengthening exercise for seniors has various benefits such as circulation, stimulating digestion, and toning abdominals, and this is one of the best stretches for lower back pain. This can also help improve spinal flexibility and help stave off any further lower back pain. 
Working: The muscles used in this stretch are rhomboids, serratus anterior, erector spinae, and several neck muscles like splenius capitis and sternocleidomastoid. 
Keep your feet flat in the ground, and bent knees raise at a 90-degree angle. Sit at the edge of the chair carefully so that you do not tilt. 

Inhale and press against your sit, sit straight, lift arms overhead. 

While exhaling, turn right, keep your left hand at your right knee bent, and right hand where ever you want to. It could be on the back chair seat, possibly. Just make sure not to use that hand to twist deeper. This can cause injury if you want to feel your twist through all spine. 

While inhaling, stay in the twist, and you must feel yourself sitting up taller. While exhaling, twist deeper. 

Inhale 3 to 4 times while releasing the twist and do it on the opposite side. Keep alternating this back strengthening exercise for seniors so that you can at least do this twice on each side. 
The above-mentioned back strengthening exercise for seniors treats your back pain and prevents future pain, and you can absorb the reducing symptoms. 
As we age, the muscles of our body get shorter and tend to lose their elasticity. If you do not exercise, this will only make the issues bigger. On the other hand, these exercises work enormously, or plan an exercise program if you face the timing.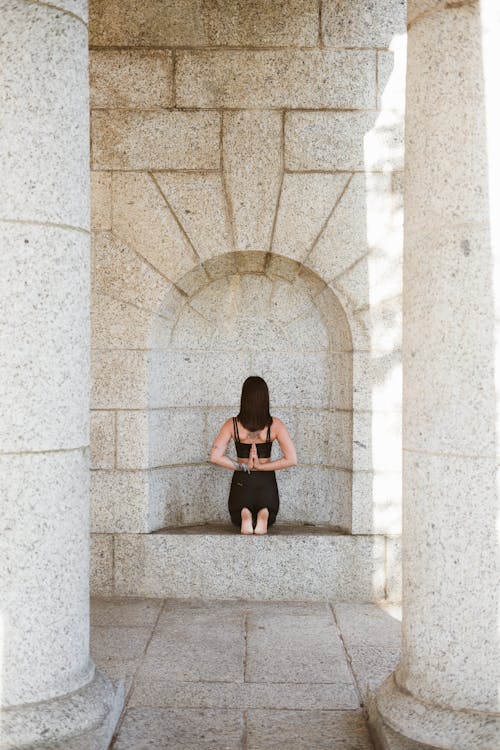 Making all the muscles can help avoid the pain, improve the posture of our body, and range up in action, allowing you to maintain a higher quality of life. 
Consult a doctor if you have any pain that is shooting or sharp or decreases your ability to inhale deeply. Most of the back pain caused to the seniors is for back pain, ordinary laziness, and bad postures, and also carrying extra weights. 
Any information found on the site does not constitute legal or medical advice. Should you face health issues, please visit your doctor to get yourself diagnosed. Icy Health offers expert opinions and advice for informational purposes only. This is not a substitute for professional medical advice.