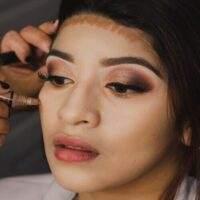 This article highlights everything you need to know about Bronzer vs Contour.
As rightly quoted by Coco Chanel, 'Elegance comes from being as beautiful inside as out'. Makeup is essential for women, whether it was the 90's or the present era. It has also become a way for artists to experiment with different styles and emerge with unique trends.
Research suggests that makeup provides confidence and helps boost our self – esteem. No matter what look we go for, natural or bold, makeup allows one to express themselves in society.
There are hundreds of lipstick shades available, lip scrubs, and foundation colors to fit every skin tone and an array of eyeliners, gel, or markers. The industry of makeup in today's time is more extensive than ever.
You can stumble upon beauty stores at every corner of the street or browse sites delivering only cosmetic products. Millions of customers happily buy products from the biggest brands and add them to their collection.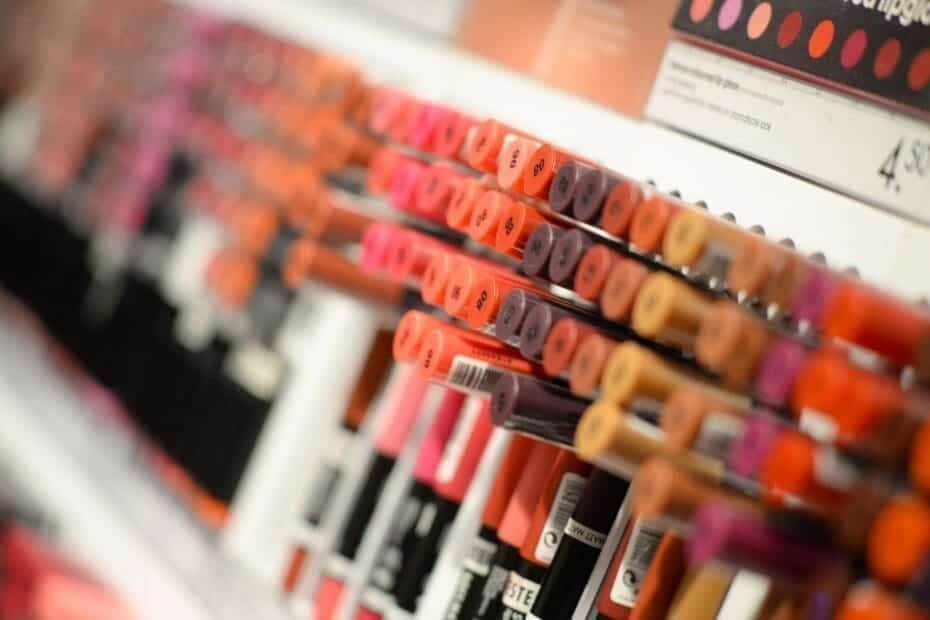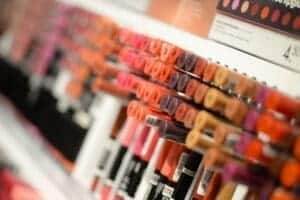 However, there is a proper method to do your makeup correctly. You need to follow specific steps to get a perfect makeup look from applying lipstick, foundation, and even eyeliner.
Bronzing and contouring are also two famous methods that can help one provide depth to their look. Many use these techniques to define their facial features and give a sophisticated look to their face.
Likewise, did you know there is a difference between bronzer vs contour?
This may come off a bit of as shocking since a lot of people get confused between them. Many even use both of these products interchangeably! If you have been doing the same, then you need to rethink your choices.
Bronzing and contouring complement each other, and while they both appear to be similar, they are actually two different techniques.
The only similarity between bronzer vs contour is that they both add depth and enhance features.
Bronzer vs Contour: Top 2 Amazing Facts
1. Bronzer
Want to look like you've just had a tropical vacation on an expensive island with sun-kissed skin. Well, bronzer helps you achieve that look. Using a warm tone, bronzer enhances your skin by making it appear tanner. It also makes your skin look radiant and healthy.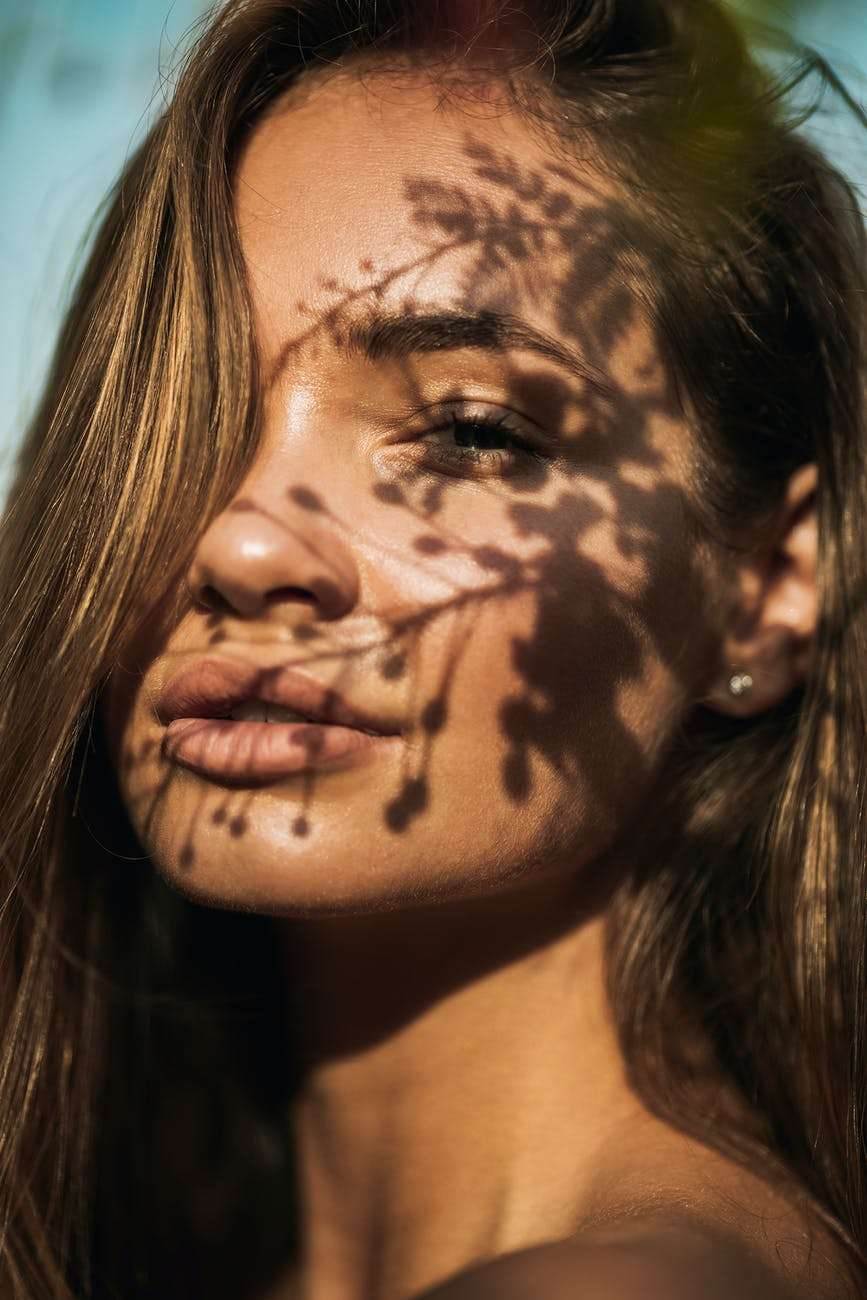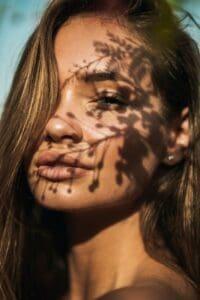 The difference between bronzer vs contour
is simple to understand
Bronzer can add warmth to your face, especially if your skin looks dull. When bronzer is misapplied, it appears orange and blotchy while giving an unnatural look.
Bronzer vs Contour: Where To Apply:
Many people get confused with the applicability of bronzer as it appears to be similar to contour.
The main difference is that bronzer is not applied to the areas similar to contour. Instead, think of the spots on your face where the sun would hit.
You can also apply bronzer on the sides of the neck too. But remember, it isn't supposed to go everywhere.
How To Apply:
Don't worry, the applicability part is straightforward and may take you only 60 seconds to apply bronzer, like a pro.  Follow the steps below to emerge with a sun-kissed skin even though you haven't been outside for days.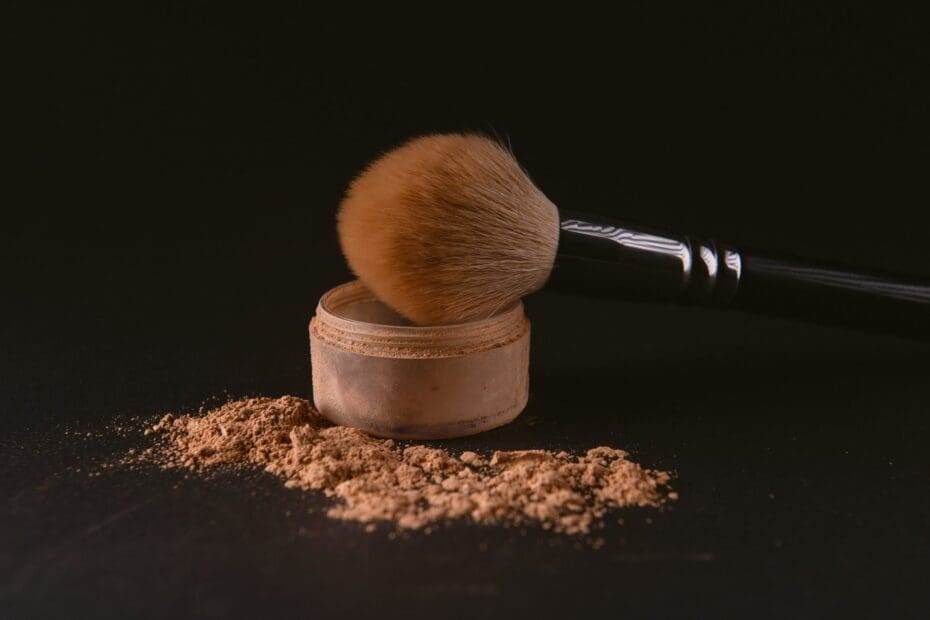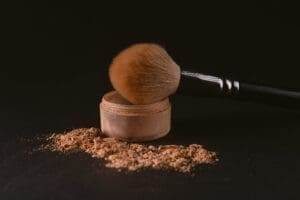 Bronzer vs contour may look similar
but they are two different techniques
Bronzer vs Contour: Basic Application:
The most famous method to apply bronzer to your face is by using the '3' technique. Take some bronzer and apply it on both sides of your face, from top to bottom. Start from your forehead, follow your hairline and finally down to your cheekbones.
Apply bronzer to the apples of your cheeks to bring color to them and sweep up towards the hairline. To add definition to your face, apply bronzer to the jawline.
After the face is completed, apply bronzer on the side of your nose, neck and the chin. Don't use too much; just highlight these areas lightly for a natural look. This helps match the complexion of your face and neck.
Don't forget to blend in properly with a small circular motion to eliminate any blotches.
For a final look, add blush which adds a vibrant yet subtly pop on your makeup look. Check out these blushes and choose the one that fits perfect for your cheeks.
You can also use translucent powder and setting spray to smoothen any lines.
Bronzer According to Face Shapes:
There are different methods to apply bronzer depending on the face shape.
Square shaped face – To soften the corners, apply bronzer starting form the middle of your forehead and along the middle of the cheeks.
Oval shaped face – Apply lightly on the top of your forehead, followed by the hairline. Then, apply bronzer on the hollow of the cheeks lightly, while finishing it off by dusting the bridge of your nose.
Heart-Shaped Face – Apply more bronzer on the hairline and the temple area while brushing a little at the bottom of the chin.
Round Shaped Face – Start by applying bronzer along the cheekbones towards the jaw in a downward motion. This helps create a natural shadow on the face, which defines your features.
Which Bronzer To Buy:
Application is only part of the process for achieving the perfect makeup look. The other half is finding the right shade of bronzer according to your skin tone.
It is recommended to stay away from very orangish shades as they might give an unnatural look on the face. You can also go for a neutral shade instead of selecting between warm and cool toned bronzers.
Bronzer vs Contour: Different types of bronzers:
Powder bronzer works well with oily skin but can suit other skin types as well.
Cream Bronzer is usually used for a much heavier makeup look and works perfectly with dry skin.
The liquid bronzer has a much thinner consistency and is rightly made to achieve a natural look.
Bronzer vs Contour: Types Of Bronzer Finish:
Depending on what type of finish you prefer – a natural or a shimmery one, these bronzers offer different types of finish:
Matte Bronzer– This bronzer adds depth to your skin, defines it and adds a warm tone to your face.
Shimmer Bronzer – This gives a radiant glow on your skin and also helps hide blemishes. Shimmer Bronzer can also be used as a highlighter.
Sheer Bronzer– Sheer Bronzer can be used for a much natural look yet appears to be glow. It does not provide much definition but still makes you look sun-kissed.
2. Contouring
Contouring is a makeup technique that is done to define specific features of your face by highlighting them. It is generally done on the cheekbones and the bride of the nose. Contouring creates a  natural shadow-like effect on the jaw and cheeks.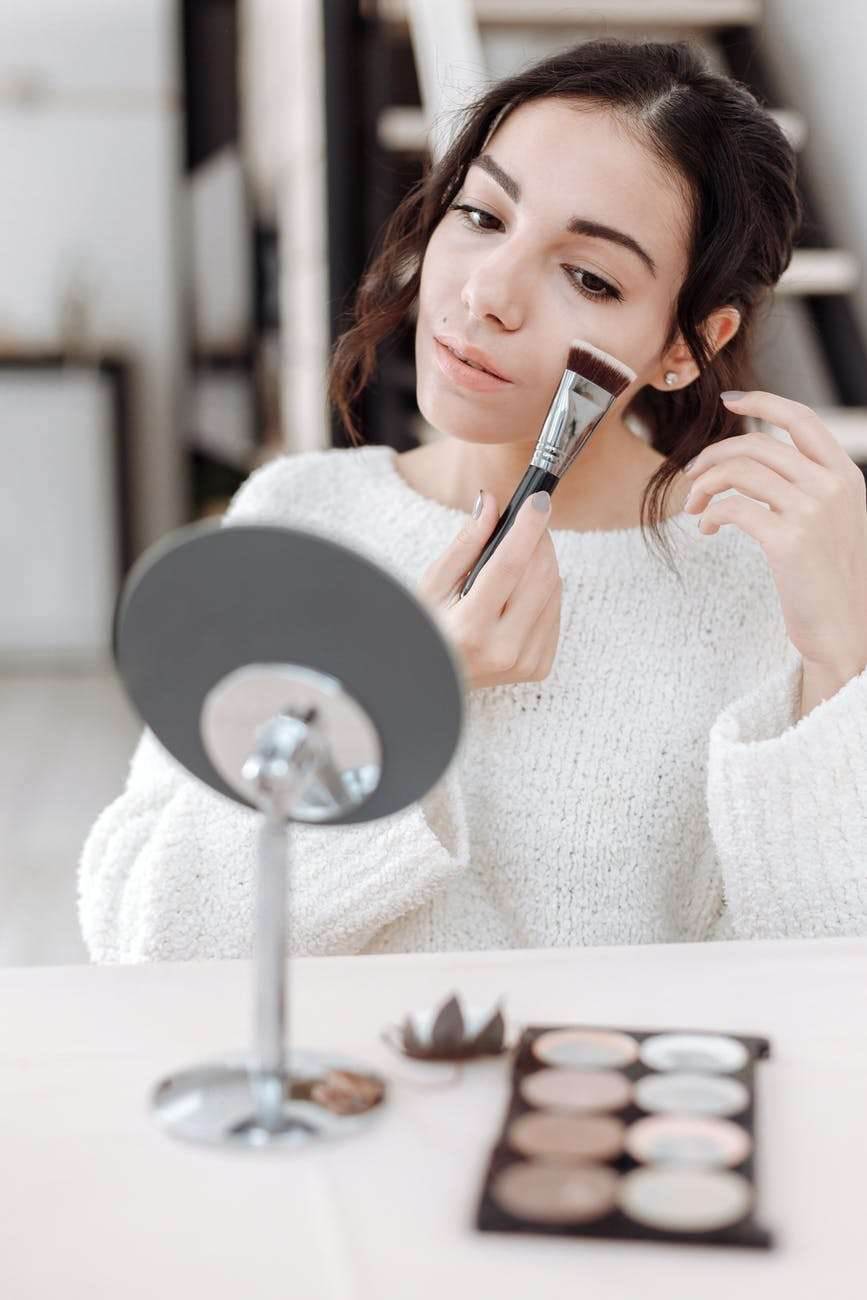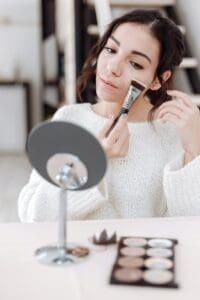 bronzer vs contour are famous techniques
used in makeup
This technique also shape to your face and defines certain areas. If you want a sharper jawline, prominent cheekbones and a narrower nose, contouring lets you achieve it.
Bronzing and contouring are also different in the matter of color and finish. While contouring is more neutral and gives a matte look, Bronzing is more orangish and appears shimmery.
Bronzer vs Contour: How To Apply
The features highlighted the most using this technique are cheekbones, side of your nose, along the hairline and the jawline.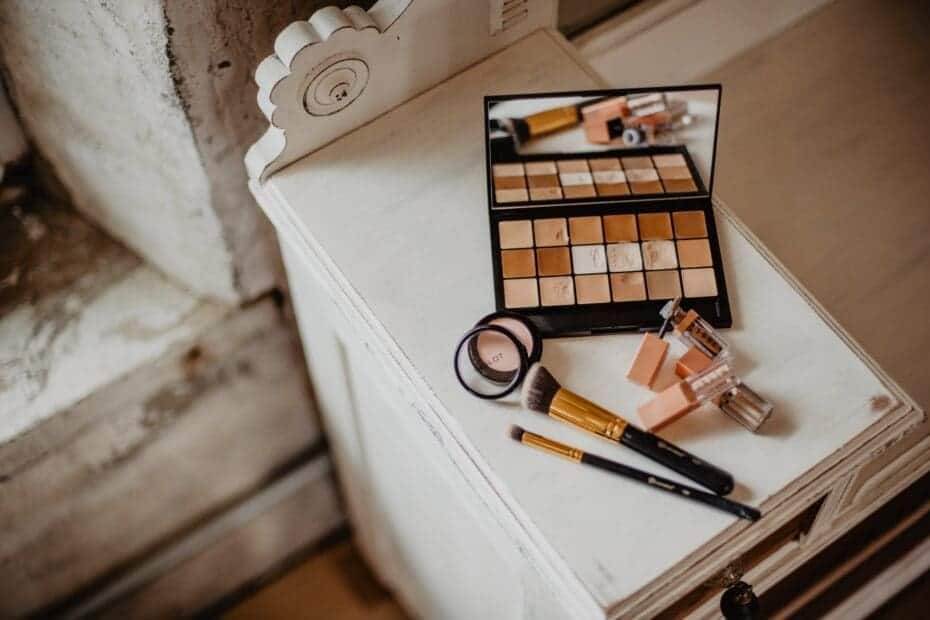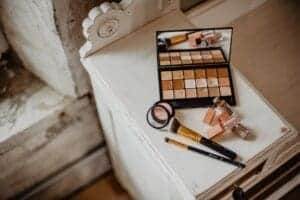 Bronzer vs Contour: Prep:
Start by concealing marks such as dark spots and blemishes from your face. Take the product on the makeup brush and don't forget to blend well.
 Use a matte foundation such as the M.A.C. Studio Fix Fluid and apply it to your face for a seamless look. Often, we don't use the right beauty blender made specifically for blending foundation. Use the correct makeup brush and blenders to help you correctly agree on the product.
If you need extra coverage, you can use a concealer as it provides evens skin tone and gives you a flawless look.
Bronzer vs Contour: Highlighting And Contouring:
For highlighting and Contouring, you will first need to pick the right products for your skin tone.
While choosing a highlighter, pick two shades lighter than your natural skin tone while contouring requires you to pick two shades darker than your skin complexion.
Start by highlighting the areas such an under the eyes, side of your nose, in – between eyebrows, above the cheekbones and the center of your chin. While using a powder highlighter, make use of a fan brush. Liquid highlighters often make use of blenders or even the tips of your fingers.
Apply contour along the hairline, under the cheekbones and the sides of your nose. These spots also depend on your face shapes.
Apply the contour product on your face and don't forget to blend in well. There are several contour palettes available in different and vibrant shades. Contour products are also available in cream or powder forms to suit your preferences. Remember that you need to use the right makeup brushes and beauty blender to blend it all out perfectly.
After you've finished applying contour, make sure you add a tinge of blush to accentuate your final look.
In the end, use a setting spray that will help you achieve a matte finish.
After you have finished with contouring, click those perfect selfies on Instagram while faulting your contoured look!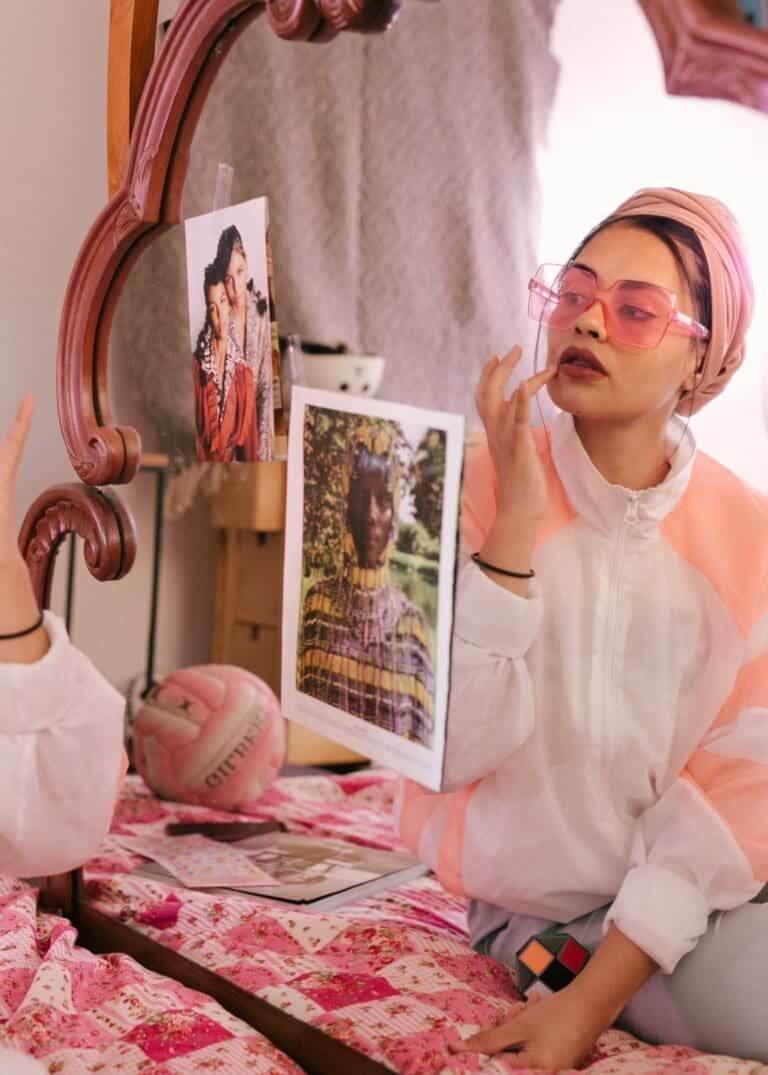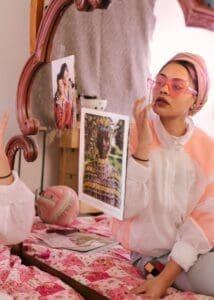 Now that the difference between Bronzer vs Contour is all cleared out, you can finally start by picking out the right bronzing and contour products.
Equipped with all the information you need about Bronzer vs Contour, get ready to become a makeup pro and a perfect the art of bronzing and contouring.
——————–
While at times contributed by guest authors, our content is medically reviewed periodically by professionals for accuracy and relevance. We pride ourselves on our high-quality content and strive towards offering expertise while being authoritative. Our reviewers include doctors, nurses, mental health professionals, and even medical students. 
Do note that any information found on the site does not constitute legal or medical advice. Should you face health issues, please visit your doctor to get yourself diagnosed. Icy Health offers expert opinions and advice for informational purposes only. This is not a substitute for professional medical advice.